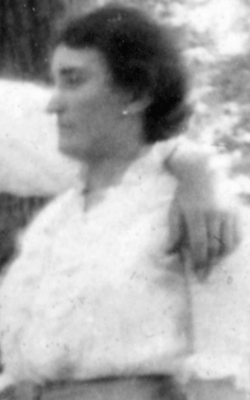 May 12, 1919
"I am Mrs. G.D. Parr. I live at 1689 South Lumpkin, Athens, Georgia. I have lived here for thirty years. I am the mother of Viola Parr. She was 23. She is dead now. She died this year, on the first day of March.
She had worked for Dr. M.T. Summerlin ever since June last year, up until Thursday the 20th of February. On that day she came home sick and was very weak.
The next evening, she was suffering greatly. We called young Dr. J.C. Holliday and he came over.
By the next Friday, February the 28th, my daughter was dying. She knew it and said, when we were alone,"
"Mama, the doctor has told me... I have to die. I know that I have to die. I have something I want to tell you. I have done wrong, Mama. I have been in a pregnant condition."
"Viola, who did this to you?"
"Dr. Summerlin is the cause. Dr. Waters operated on me."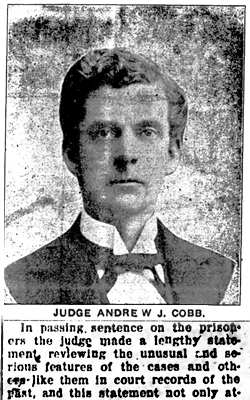 May 22, 1919
"My name is Andrew J. Cobb, as your brother citizen I feel the daily threat of lawless self-serving leaders and secret clubs.
They kill their prey, as you both have done, either by lynchings, septic abortions or gunfights.
As Judge of Georgia's Western Circuit Superior Court, my duty to provide you both with felony trials is complete
Your peers found you guilty of homicide against Viola Parr.
Doctors Summerlin and Waters, crimes such yours are a lethal practice. Our Municipal Court all but decriminalizes the killing of inconvenient women. Seducers and rapists go free, indulging criminal passions...
In your cases, however, the Grand Jury saw fit to file felony, rather than misdemeanor charges...
I condemn you each to the maximum penalty for manslaughter committed during the commission of an unlawful act: 3 years on the chain-gang, at hard labor."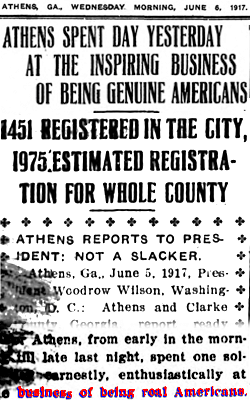 Almost two years earlier,
12:27pm, June 5, 1917
Without the aid of amplification, a public official addresses a crowd. Three landings of granite steps lead to her. Under the shady portico of the county courthouse, she stands behind a podium.
Her trained diaphragm and throat arrest the conversations of the few hundred people filling the courthouse park.
"Thank you, Mayor Dorsey for your inspiring words. People of Athens, thank you for your work, and your sacrifice.
People of Athens! This is a noble and historic day for democracy! People of Athens, are you proud?"
The crowd roars affirmation. Handheld flags rise, waving.
"I am Mrs. T. F. Green. You all know me as the President of our Athens Women's Club; YWCA Officer; and like those of you making today's victory possible... I am but a simple member of The American Red Cross."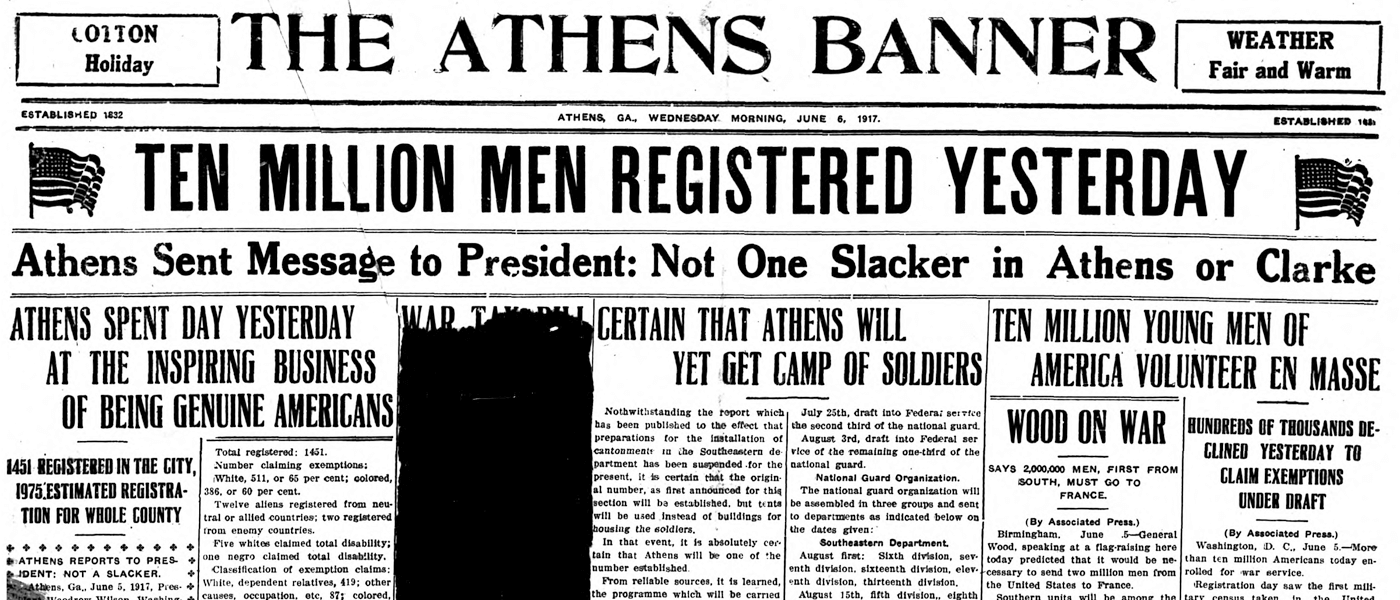 Font page news, June 6, 1917: Ten Million Men registered for the draft yesterday.
The Athens, Ga. Chamber of Commerce sent a message President Woodrow Wilson," No slackers in this county.
Athens spent the day at the business of patriotism."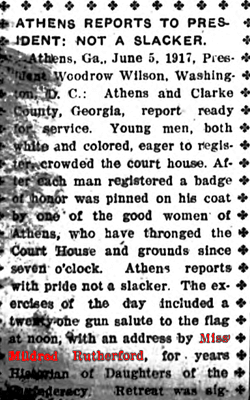 Mrs. Green continues,
"Majesty is born by our noble work. It is dangerous. Vanity risks any of us to fall from the divinely ordained cause. We must never forget the sacred mission of our deeds!
Who better to speak of our godly national duty, than our beloved Queen of Dixie? Visitors may not know our Queen. Who will say her name?"
Mrs. Green energetically opens her arms, embracing the crowd.
"Who's our Queen?"
A few begin chanting "Millie!" Mrs. Green chants with them. She begins slowly clapping. The crowd's energy grows. Volume and tempo increase.
A drummer taps cadence. The hundreds are one. They fuse into a single giant, a leviathan enfant now awakened. The gargantuan baby cries out for its mother!
"Millie! Millie! Millie!"
Mrs. Green silences her ward with a single sharp gesture. The monster matures. A grown colossus listens, waiting its cue.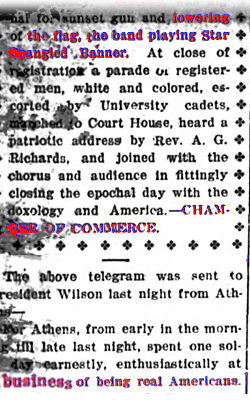 "Our Queen of Dixie; President of The United Daughters of the Confederacy; Georgia's Official Historian; President of all Georgia's Women's Clubs; longtime President of our beloved Lucy Cobb Institute; opponent of women's suffrage; inspiration of our Klan; the first woman to have ever addressed and been recorded by the United States Congress.
She was once but a simple schoolteacher... Our very own...
Miss Mildred Lewis Rutherford!"
A trumpet sounds.
The crowd spasms, twitching as one orgasmic body of joy.
That was 1917. Today, in 2020, Millie's fondly remembered in Georgia as a pioneer for women's advancement. Many celebrate her birthday, July 16, 1851.
Mildred Lewis Rutherford was the spokeswoman of Dixie. The first woman recorded into the US Congressional Record, addressing Congress in 1916, she defended slavery and opposed women's suffrage.
Between 1911 and 1918, when Women's Suffrage threatens Dixie's Supremacist government, Mildred Rutherford is a daily news item.
She's the Queen of Dixie. Cotton's Her King. Millie's the brand for Georgia's industrialists.
Her work trains reflexes for privilege. Privilege, justified by supreme personal honor, deploys lawlessness. Not only White Supremacy, but Absolute Supremacy creating fraudulent justice. It protects the ennobled against their human resources.
Supremacists retool popular myths of honor and glory into violence. Jurisprudence becomes a tool for Supremacist violence. It's The Old Way. Millie shares this vision. They all admire European aristocratic tradition.
Europe's leaders intended World War. Together, they cull their excess populations. Military production and pillage makes more money for fewer people.
USA's industrialists love The War. It creates both powerful private business profit and captive human resources.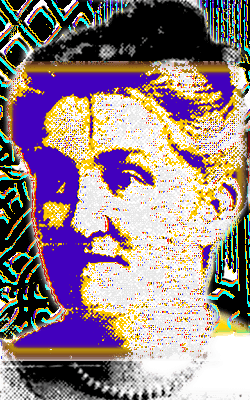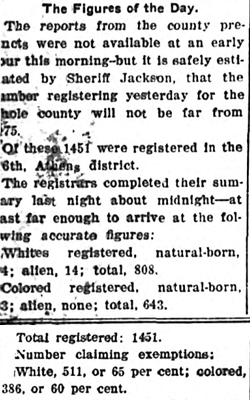 Viola is at the courthouse on the morning of June 5th. She's in the park near the steps with her friend, Louise Algood. A picnic basket's at their feet. They occupy wooden folding chairs reserved for VIPs, who've not yet arrived.
Viola and Louise wait for Hermann Stein. Hermann and Louise intend to marry. They're saving money. Hermann's registering for the draft. He's a German national.
A young woman sashays down the courthouse steps, declaring, "Louise Algood, how nice to see you. What are you doing here, still engaged to...?".
Louise calls out. "Hermann."
"The Hun? If you joined the Red Cross, go inside. Why not be useful? You know y'all shouldn't be sitting in those chairs?"
Louise and Viola ignore her. She swishes before them. Her eyes glower. Viola admiringly surveys their visitor, almost whispering,
"Marge Rowe, your mother's beautiful old gown! You let out the seams, learning to sew."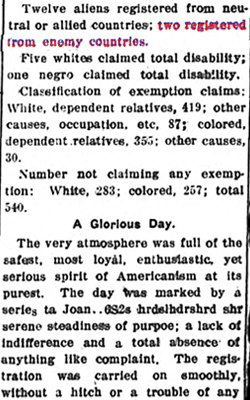 "Miss Parr. I didn't see you. Please call me Margarita." Marge laughs warbling trills. Well-dressed young men, passing, tip their fine new hats to her.
"But here you are, caught red-handed, slacking on a chair."
Her voice plummets. She removes her gloves. Her smile lances upward. "A chair that isn't yours. Will you let me help you up, out of your misfortune? Here, borrow my gloves."
Marge bends closer, her voice a faint breeze, "Shouldn't I say, you're caught purple-handed?
Do men find it perturbing, your purple hands? Those wilting birthmarks, is it why your mother named you Viola? Why your fiancé mangled his own hand after abandoning you?
Shouldn't you leave now? Hide your naked shame with my gloves, Viola. Leave.
These are my chairs."
Viola looks away, unrolling sleeves. Covering her hands, she watches the young men who'd passed. The dandies had noticed neither her nor Louise. The men laugh, slapping each other's backs. They bound upstairs.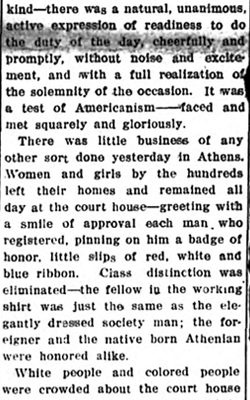 Marge puts her gloves on.
Louise stands. Affectionately taking Marge's arm, Louise pivots Marge with a deft dance step. Louise gestures toward the men on the porch.
She chides Marge. "Each one, your new beau? Is that why they didn't stop and pay respects? You freely do so much for our men. To them, you give up everything and ask nothing, not even their names. You're generous to a fault."
Marge pales, remaining poised. Louise tugs, whispers. Her voice, now consoling, encages Marge.
"They'll compete for your marriage. The best lover exempted from patriotic service."
Louise menaces. "But what if they compare their conquests? Then they all leave. Your stratagem's starting to show. You're pale. I forgot. It's morning. Are you nauseous, Miss Rowe? Have you seen a doctor?"
Louise releases Marge as a junebug freed from cupped palms. Marge buzzes away, and then circles back with a skip, a demi-pirouette and a plop into the chair, which Louise had been occupying.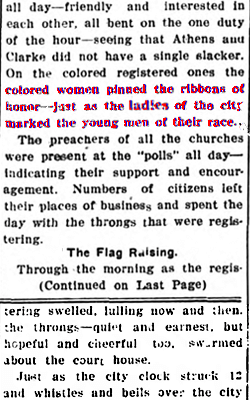 Marge retorts. "Y'all don't seem to understand, these chairs are reserved for The Dancing Set, us girls and their families who have private clubs, especially at the men's university. That's where I met Billy. Y'all know full well he's my only beau. Since forever."
All the chairs have a broad, patriotic ribbon. Sitting back down, next to Marge, Louise reads from one.
"This says Hodgson Family, so do all these chairs. The back aisle's labeled Rowe Family. Who'll you invite to slip into your back row, Miss Rowe?"
Marge goes on. "Soon Billy and I'll be wed. His cotton business precludes him from combat.
We'll move to his widowed Daddy's plantation at Pleasant Hill. Me, I'll be the only woman to cheer Billy's lonesome father on. I wish I could invite y'all to my parties and balls.
Did you have fun at the public dance in Comer last month Viola? Was there any brawling? I saw your name in the paper."
Viola sighs. "Haughey's Orchestra was hot. But not as hot as Billy Eberhardt."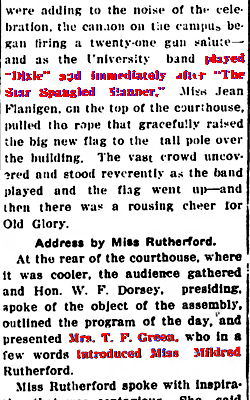 Marge declares, "Billy wasn't there."
"Sure he was. Ask Dorothy Scudder, Brenda Hunnicut, Betty Heygood, Bess Phinizy, Lizzie..."
"Stop it, none of the Dancing Set were at Comer. It would of been in the paper. I would've been..."
"They knew you'd be shamed. Knew you wouldn't have a good time in Gholston Hall, 'cause..."
Viola and Marge are shouting. None the three young women notice people who stare at them.
"Gholston Hall, what a barn!"
"It sure is. Poor Billy was kicking the stalls all night. Every filly of the Dancing Set, and every other set, had her turn with that hot buck. Good thing guns were checked at the door. Plenty of chaperons watching every corner, door and hidey hole. They had to set Billy straight once or twice. They didn't throw him out. Guess they felt sorry for Billy."
"Poor Billy?! Sorry for him?!"
Gingerly, with tenderness, Louise places her hand on Marge's shoulder... coolly breaking the news.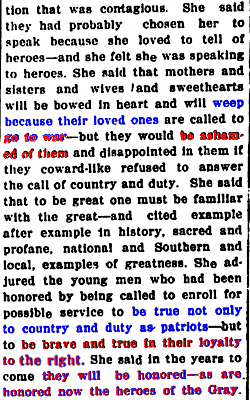 "We thought you knew. Billy's expelled. He came to class drunk; beat his professor with a cane. His father disinherited him."
Marge stands up, scarlet. Her chair tumbles over, clacking shut. All heads spin toward Marge. She freezes; voice low and icy.
"Billy took a holiday. He's tending his uncle's horses in Kentucky. He telephoned last week. Y'all are worse than everyone says. They all say your Hermann's going to be arrested today. The Klan's taking him to jail now. He's a German Spy!"
Trembling and hasty she picks up, and violently pops open, the fallen chair. She catches herself. She silently counts, daintily posing her bottom upon the chair. Her quivering blue face fixes on the courthouse door. Silent tears pool. Marge clenches her unmoving hands into a single trembling fist, at her breast.
Viola and Louise sympathetically emulate Marge's countenance. Passers-by marvel at this tableau of patriotic heroines overcome by the sacrificial prospect of their men.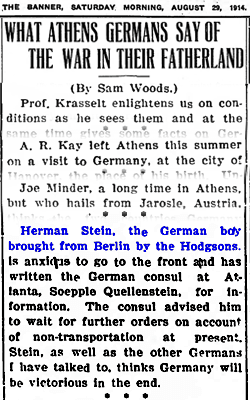 Hermann and H. J. Rowe step from the courthouse door. They pause under the portico. Mr. Rowe offers Hermann a cigar. Hermann tucks it into his breast pocket. Mr. Rowe lights up, chatting to Hermann.
"My boy, the news you make is genius! I can use you on my paper. I got ideas."
"I can only speak my heart, Sir."
H. J. roars laughing. "Brash honorable heart! Everyone loves you, boy, ever since the Hodgsons fetched you over."
They start down the steps. Rowe sees his daughter and bellows.
"Margie, look who's here! Proof of what our Southern Belles are capable! Capture the enemy with Cupid's arrow! Who needs guns?! Where's your bow, Margie?!
Hermann tries to subdue Mr. Rowe. "Sir, with respect..."
Rowe ignores him and yells. "If it ain't Miss Algood! Margie, y'all sit with the Hodgsons. They love you, Louise. Hugh told me his self. Tell 'em Stein and me, we got newspaper business."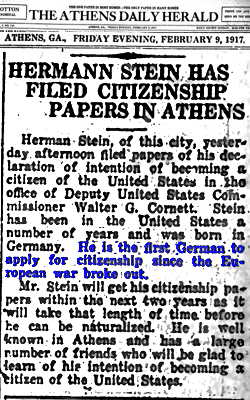 H. J. Rowe, trailing a plume of cigar smoke, Hermann in tow, chugs past. Hermann silently signals Louise. "Wait for me. This man is insane. Don't worry."
Guests of Marge's father occupy the Rowe Family seats.
Marge, Louise, and Viola are each alone. Some Hodgsons sit at the end of the aisle, staring at them. Vacuum displaces emotion. Needing hidden rest before attempting retreat off the battlefield, they dig a foxhole.
Viola glides from her chair, kneels, opens the picnic basket. She whispers. "Margarita? Margarita... Can you hear me?"
"Yes, Viola?"
"Would you like a sandwich, Margarita? It's country ham and cheese. I know you like ham."
"Thank you."
Louise sputters. "Why did I enjoy it, fighting? We been railroaded."
Marge peers out, over a crust. "Stokes the burning news, Daddy's full head of steam. All aboard, Fussbudget Express! Next stop, No Man's Land."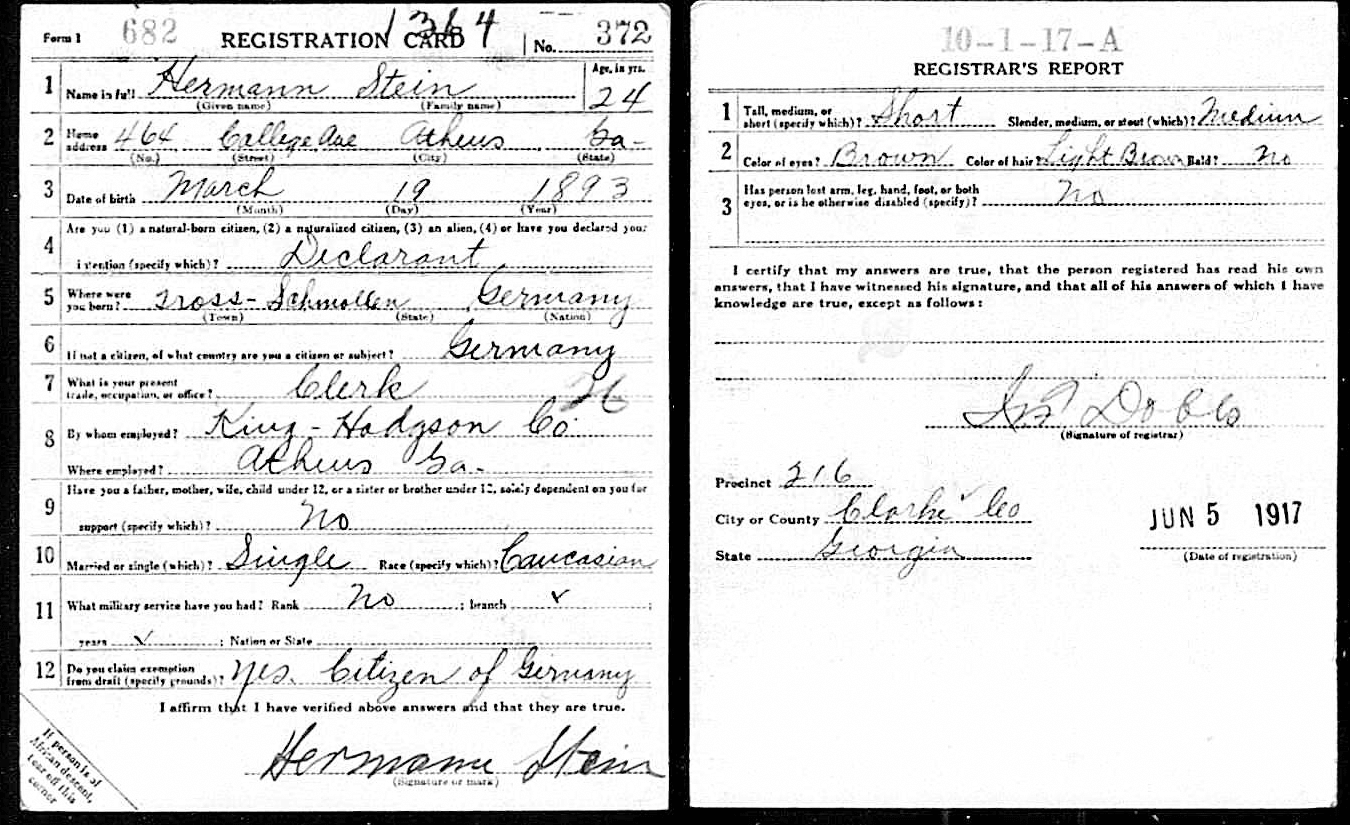 Hermann Stein's draft registration card of June 5, 1917
Before the fiction of this spat can clear up,
we best consult a few obscure truths: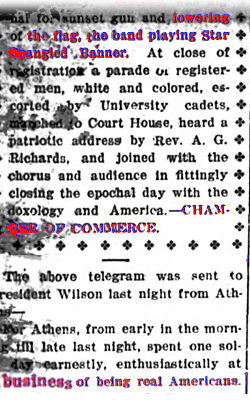 The newspaper articles, which you've scrolled past, offer illumination. Using a desktop computer, you can enlarge most of the article clippings by narrowing your browser window. As you pinch the window, the smaller of the newspaper clippings will enlarge.
If you read carefully, you'll understand that some phrases are Dog Whistles, that is, they suggest meaning contradictory to the article's stated intention, but understood by those who are trained.
I only point out those phrases crucial to our immediate docu-drama.
For instance, notice that The Star Spangled Banner is played as the US Flag is lowered. The words of our national anthem specifically ask, "Does that Star Spangled Banner still wave..." The answer in Dixie is "We wish that it did not." You may have already detected in previous clippings that Dixie was the first tune played as the US flag had been raised.
Study the beginning of the article from June 5th, 1917 "...BUSINESS OF BEING GENUINE AMERICANS." Notice who signs the official telegram from The City of Athens to the President of The United States. No elected representatives of the citizenry sign the city's official telegram to US President Woodrow Wilson. No government officials, assigned to protect the wellbeing of all Athenians, claim responsibility for military conscription. THE CHAMBER OF COMMERCE is sponsor of Athens' war effort. Private business wants men to fight. War is good business. The genuine American is a human resource for business profit. As we'll soon see, most businessmen are exempt from compulsory military service.
The imagined June 5th situation of Viola builds from the very real and proven core of lethal competition for supremacy. This core of death extends to the following incidental facts (documents will be later shown).
° Cotton, Dixie's single export has doubled since World War was declared among Europeans. Cotton drives all Athenian prosperity. With the USA now a belligerent, the Athens economy will boom-boom-boom!
° Of all Athenian industrialists, The Hodgson Family is the most powerful of 1917.
° Julie McNeil-Hodgson works full-time giving her deceased father's money to worthy causes.
° Julie's cousin, Hugh Hodgson is an impassioned musician. On a 1909 European tour, he met the teenage Hermann Stein in Germany. Hugh brought Hermann back to Athens as his protégé.
° Alex Rhodes is a well-respected educator. This year Julie, and some of her friends, moved in with Alex Rhodes.
Pressed linen suits enrobe men. New morning gowns adorn women. All ripple into reserved chairs. Luminous cotton swells arrive from nowhere, lapping against the knees of Viola, Louise, and Marge.
Our three peek up from their pond of invisible teardrops.
Before them, within billowing white, someone's kind mother speaks. Behind her, ample pale teal fabric and gold straw brims dazzle off the figures of two men.
"Hello ladies. I'm Julie McNeil-Hodgson. How are you all?"
The three women stop nibbling. Swirling remorse makes silence.
"Would you like to be my invitees? Might we all watch the speeches together?"
Sudden despair surges on Marge. She weeps. "My beau is lost."
Mrs. McNiel-Hodgson flutters down, right hand reaching to the men. "Hugh." His handkerchief's ready. Julie tends Marge.
"There, my darling, your hair is so pretty as it. But replace your lost bow with one of my ribbons."
Marge erupts, sobbing.
Louise comes to. "Ma'am, she means her fiancé, her beau."
Viola responds to the call, "She lost her fiancé. Mrs. Hodgson, please, it's a hard day for us all.
Julie's eyes embrace each girl in turn. Slowly Julie rises.
Now erect, Mrs. McNeil-Hodgson whirls upon her men. She sweeps the hat away, face darkening. Lightening, from her eyes, blinds them. Mute thunder shakes the stoic, brilliantly draped figures.
"Hugh, Alex, this is unrequired. Neither of you, not any advocate of this folly convinces me why THIS WAR comes to our people.
Look at these dear young women. What will become of them? Their love sacrificed for naught. America isn't yet fighting and already a casualty."
The men step forward.
"Ladies, I'm Alex Rhodes. The Widow Julie will be honored if you and your beaux come for a little party, the nine of us. We'll go to my house, just over on Hill Street. We'll call our cars. Invite your families. Why not?"
"I'm Hugh, Mrs. Julie's cousin. I'm very honored to meet you."
He extends his hand, hoping for introductions.
The young ladies, bewildered by strange attentions, reserve themselves.
On the courthouse porch, Mayor Dorsey steps behind the podium. Everyone's ready except they six. They're on the front row. Julie, Alex, and Hugh calmly keep their backs to the waiting Mayor.
Hugh is the only person talking. "Alex will show your young men how to get draft exemptions, I'll play piano; dance your cares away! How about it?"
Marge, Louise and Viola feel people listening to Hugh. VIPs on the porch dias scowl, expecting Hugh to be quiet. Fidgeting under Mayor Dorsey's weight, our three women study each other's faces.
Hugh's encouraged. He feels his charm. "Why, I myself know a fine German fellow. Wonder what he's up to these days. Do either of you know Hermann Stein? What are your names, girls?
Viola, Louise, and Marge rise. Holding hands, they walk away. No one notices.
Normality returns. Julie, Alex, and Hugh sit down; nothing had happened. There are no empty chairs. A mockingbird sings. Mayor Dorsey begins.
"Viola?"
"Yes, Marge... Margarita."
"I'm sorry I said mean things about your hands."
"It's Ok. I revenged... "
Louise interrupts. "Marge, why do you say things like that? Viola doesn't have birthmarked hands."
Viola holds her hands out to Marge's tummy. "Marge doesn't have morning sickness, Louise."
Louise looks down.
Marge perks up. "I don't know why I started picking on y'all. I wanted to forget Billy; I'd known of his disgrace since it happened.
When I first saw you today, Viola, I'd intended to ask you... can you dye this gown? Could you dye it purple? I saw you must've been dying something purple.
This green, it just isn't my color."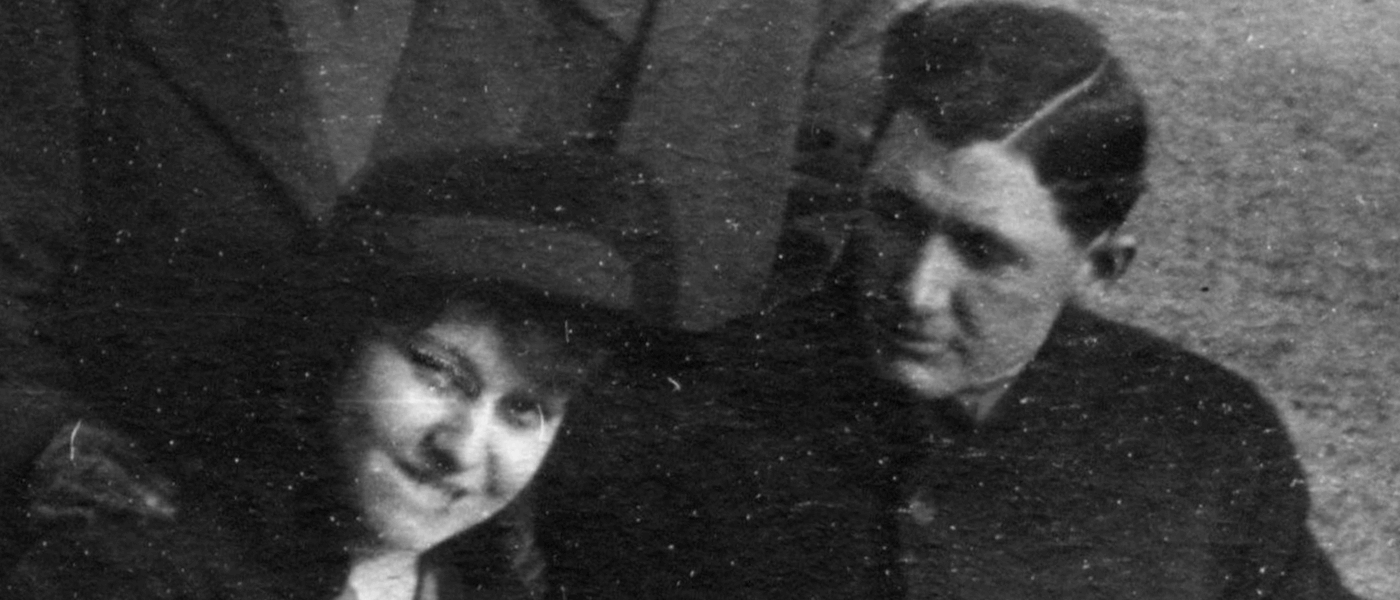 Louise Algood and Herman Stein, circa 1917,
photo probably taken by Viola Parr.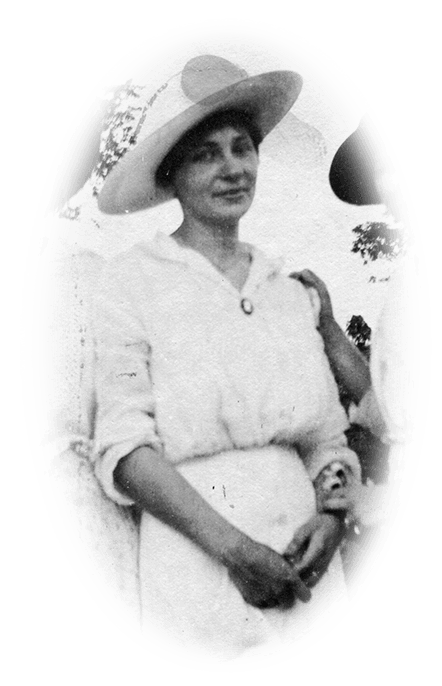 Viola Parr, circa 1917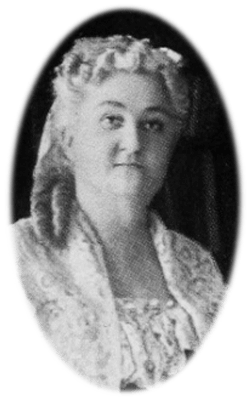 The death of Viola Parr was required by her Supremacist society. That same Supremacist imperative rules our USA culture today. Except for a very few, no one is exempt. Everyone risks random sacrifice at any moment.
From 1911- 1918, when the Women's Suffrage Movement threatens Dixie's supremacist government, Millie Rutherford is often a weekly or even a daily news item.
Millie is the Queen of Dixie. Cotton is Her King.
According to Miss Rutherford:
° The noble men who cultivate cotton are God's agents on Earth.
° God ordained that each man's honor makes him fit to either command or obey God's will.
° God's Honor enables chosen men to command multitudes. Those who have sacrificed for The Honor of God are supreme examples for us all.
This bloodthirsty god , who demands sacrifice, is a traditional fiction. It's an invention, which consolidates supreme power among the fewest possible people.
I wonder about leaders encouraging sacrifice. Sacrifice of other people. Leaders don't sacrifice their own lives to god. No, they sacrifice people whom they supremely command.
Industrialists know that government will spend big for The World War. The price for all commodities will sharply rise and the cost of labor will drop.
By the time of Millie's speech on June 5, 1917, Dixie's cotton price has doubled since 1914.
When war ends November 1918, Viola's employer impregnates her, and the price of cotton has tripled since 1914.
After the World War had run its course, cotton prices dove. Finance and loan banking supplanted cotton. People were broke. Women, especially Afro-American women, threatened King Cotton's bosses.
Viola was sacrificed.
Her homicide revealed a new terror for suppressing the Afro-American vote. The decisions Viola had made during her life, and the people who believed in her, thwarted this terror.