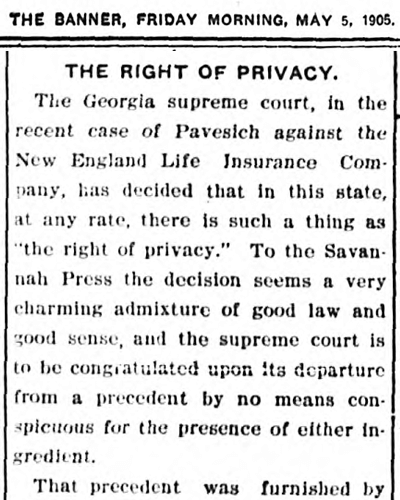 Andrew J. Cobb, Associate Justice of The Georgia Supreme Court (1897-1907), is the father of today's privacy laws.
Before 1905, the legal right to privacy didn't exist.
The 4th Amendment to the US Constitution forbids unreasonable search and seizure. Privacy is more than preventing authorities from ransacking and taking one's possessions.
Justice Cobb's opinion in the 1904 case, Pavesich v. New England Life Insurance Company laid the foundation for other important precedents.
Reproductive privacy is guaranteed by the precedent of Griswold v. The State of Connecticut (access to birth control without a doctor's prescription), and Rowe v. Wade.(right to terminate pregnancy).
As you read in the adjoining article, Justice Cobb's opinion is precisely why we must click all those internet permission buttons, allowing web sites to have our data.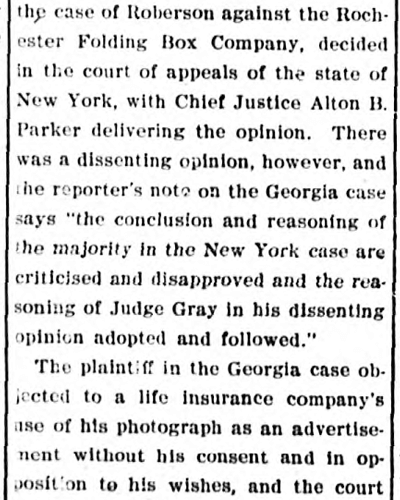 The case of Mr. Pavesich seems simple and common sense to us today, but similar cases had been defeated before Judge Cobb dared create precedent.
Paulo Pavesich is a reputable artist. He creates oil paintings and frescoes. He has a friend who takes some photos of Pavesich, prints of which he gives to him.
A few weeks later, Pavesich is reading the newspaper at breakfast. He sees these photos of himself in the newspaper.
They are for life insurance ads. The ads claim that he, Paul Pavesich, is a happy, though sickly, policy holder of New England Life Insurance.
Paul Pavesich never did any business with New England Life Insurance. He is in perfect health! The photographer had sold the photos and identity of Paul Pavesich without Pavesich's knowledge or permission.
New England Life's advertising team invented a fiction about a well-known professional, which they claimed to be truthful.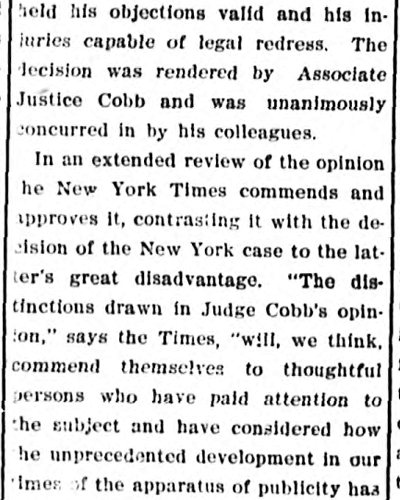 Pavesich argues that if he doesn't have the right to control his own identity then at what point does he no longer have the right to his own affairs or the determination of his life and livelihood?
If business can use my image and name, against my wishes for whatever purpose it sees fit, what more remains until I have become a slave?
Judge Anita Allen's work explains the vital importance of Judge Cobb's precedent.
Judge Allen explains how Judge Cobb articulates a legal nescessity that had been long sought. Judge Allen outlines today's legal arguments insisting that privacy is no longer relevant as an individual right.
Read Judge Allen's 2012 Fordham Law Review article,
THE NATURAL LAW ORIGINS OF THE AMERICAN RIGHT TO PRIVACY.
NATURAL LAW, SLAVERY, AND THE RIGHT TO PRIVACY TORT.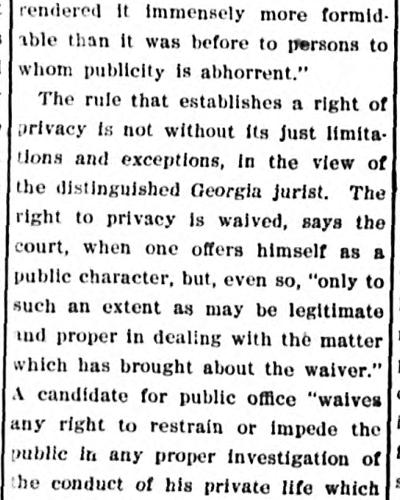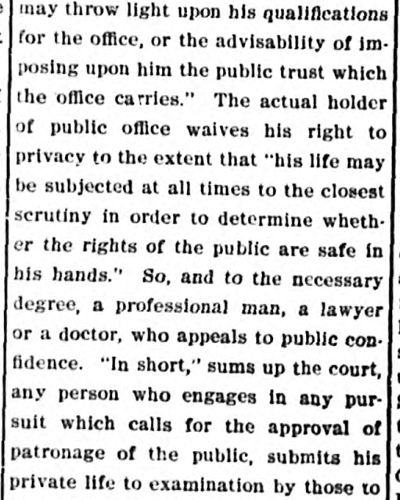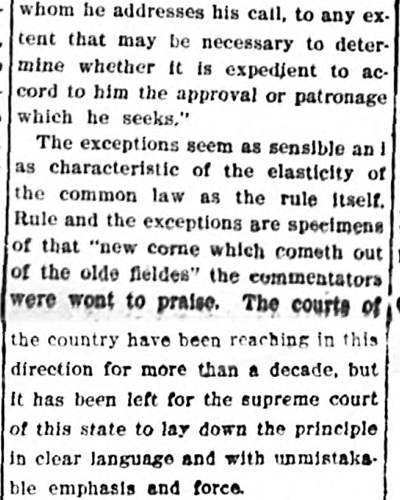 After 1907, Andrew Jackson Cobb resumes private law practice in Athens. He had been a Georgia Supreme Court Associate Justice for a solid decade.
Athens has begun an unprecedented expansion. A. J. Cobb intends to, side by side with his peers, shape this rapidly changing society.
The official portrait of Andrew J. Cobb is from 1897, at the age of 38, when he joined the Supreme Court. He is handsome, from generations of old wealth and power, intelligent, tempered, driven, and very charismatic.
It is his life's purpose to bridge the noble obligations of the 19th Century with the democratic freedoms of the 20th century. Remembering The Civil War and Reconstruction he knows that success too often brings violence and social implosion.
He busies himself in every walk of Athenian life. He becomes an influential, and consequential celebrity.
The same week of January 1917 that Judge Cobb takes office in Athens as Superior Court Judge of Georgia's Western Circuit...
SARAH BERNHARDT comes to town.
Madame Bernhardt is the greatest living theater artist of Europe.
Europe is dying, WAR is sweeping away all that her generation of Pre-Raphealites had created for civilization.
Sarah is broke. She is literally standing on her last leg. Her right leg had been amputated, to the thigh, the previous year. She has come to Athens, Georgia as she comes to metropolises and small towns alike across the USA. Speaking only French, she pleads for the US to help France.
Both Judge Cobb and Sarah Bernhardt work with all their force, that the impossible dream of their parents might prevail over the dehumanizing machine that is the coming 20th Century.
If we were to meet either Madame Bernhardt or Judge Cobb today, we would certainly mistake them for our ontological enemies.
Their 19th Century, for all the good and the bad that the 20th Century created, is now unknowable and so, anathema to us.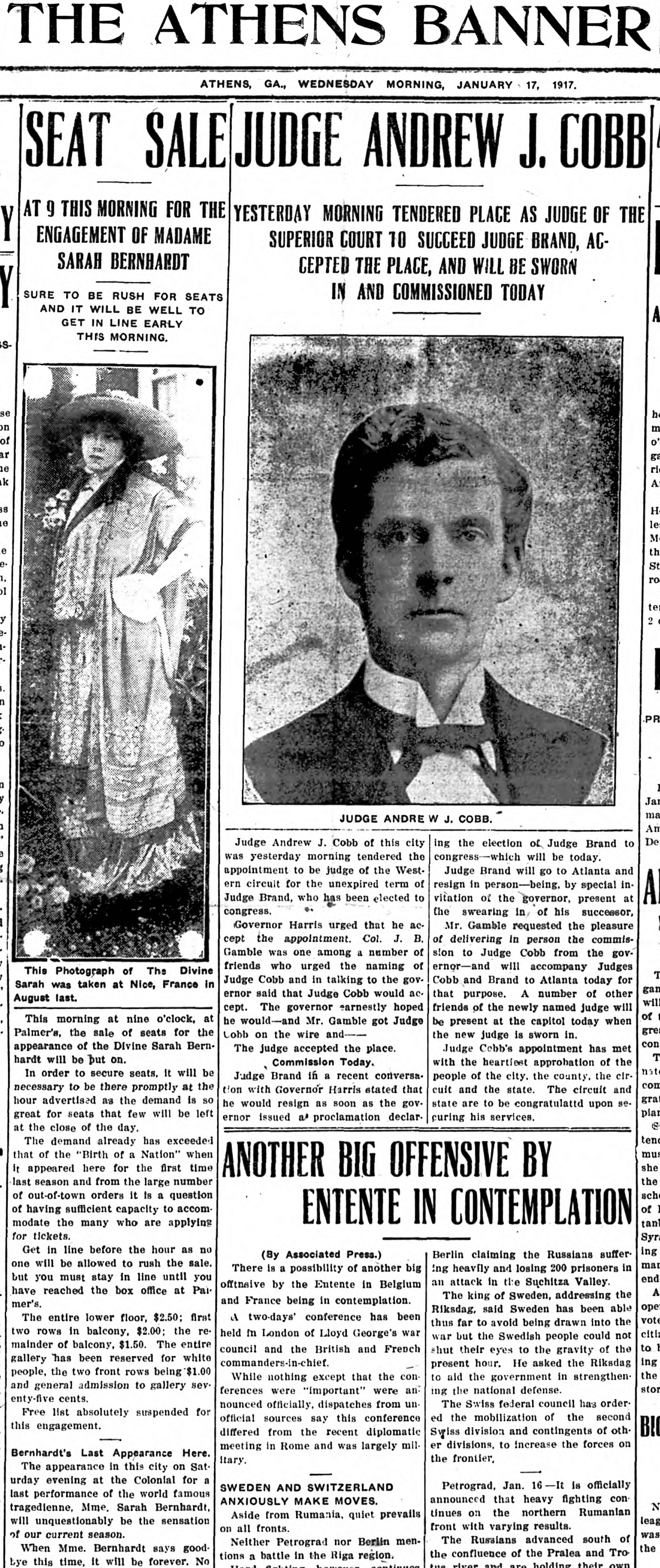 Following is a biographical sketch of Judge Cobb, published when he was taking office as Superior Court Judge.
It evokes the image of a man, since youth, endowed with the fervant desire to make use of his privilege for the betterment of all.
He ardently supports, with his presence and actions, social institutions of many kinds. Without imposing himself, he is confident to defy convention for what he feels might do the most good for the most people.
The article is long. If you want to read it more easily, narrow your browser window's width about 50% and the clippings will enlarge for easier reading.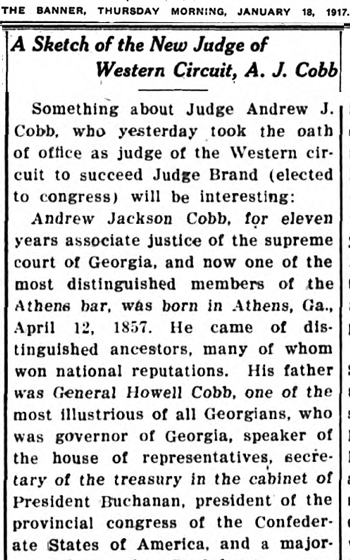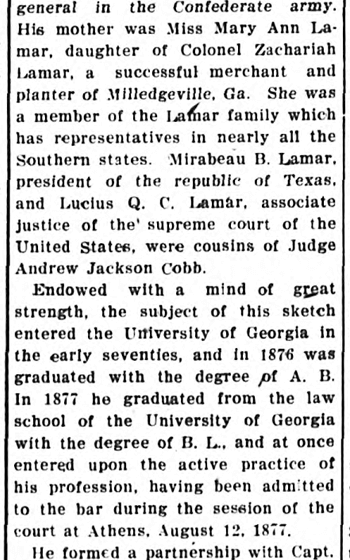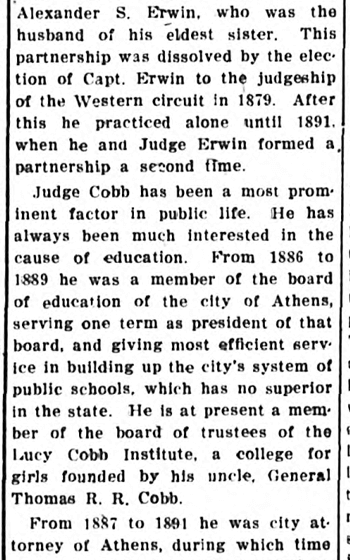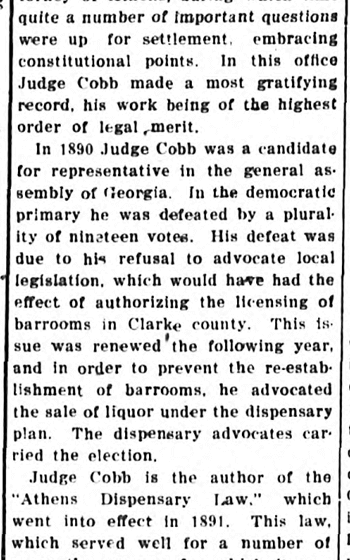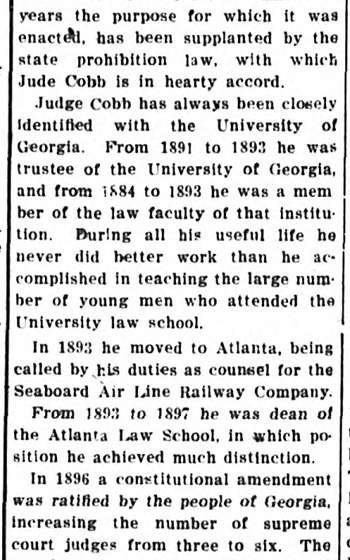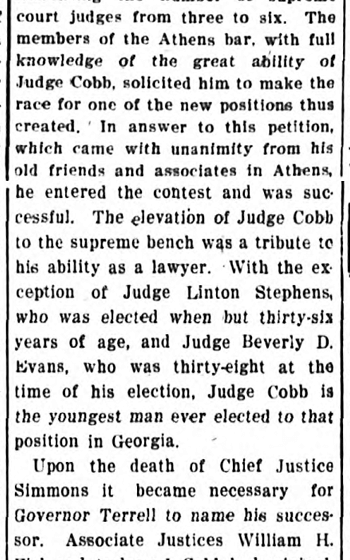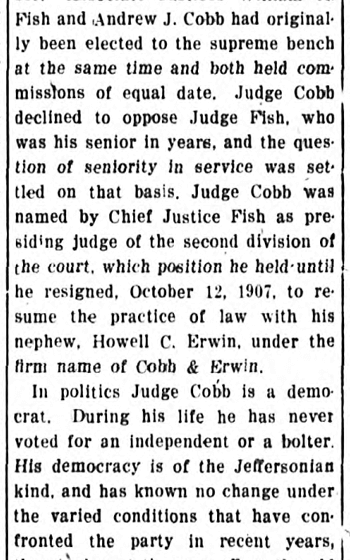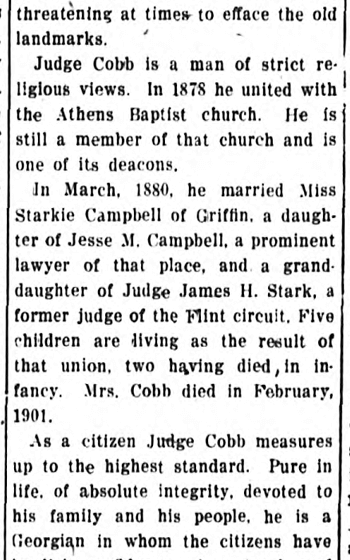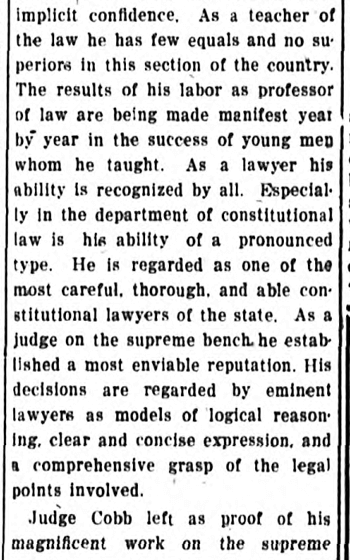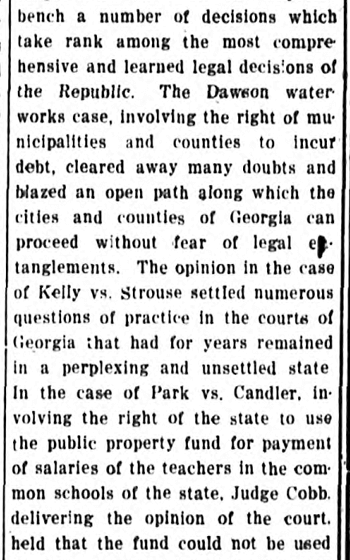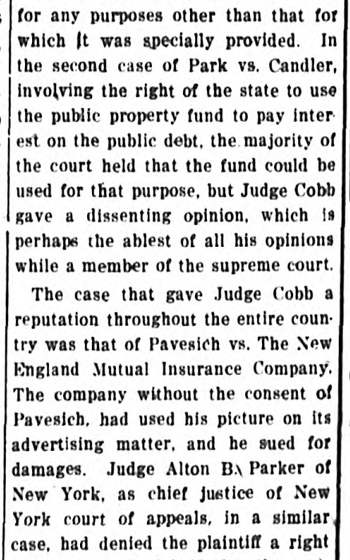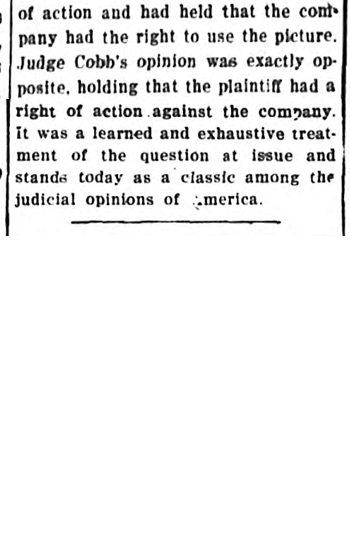 Within 3 months of Judge Cobb's ascent to the Western Superior Court Bench, the USA enters WWI.
Andrew J. Cobb orgainizes The Athens Home Guard. Its military purpose is dubious. Its social function is crucial.
During the Civil War, in Athens, the colorful Mitchell Thunderbolts Home Guard had been formed by men ineligible for regular military duty.
In this model, Judge Cobb creates a military company in which men, ineligible for real service, could feel included.
Inclusion into an official unit, under the watchful eye of Judge Cobb lessens these men's temptations and gives Cobb a conduit into actions encouraged by the other local militias, such as the KKK, WOW, and Knights Templar.
Viola Parr's older brother, Frank, is assigned as First Sergeant of The Home Guard. Frank has a lame knee. He's also a decorated member of the WOW and a founding member of the recently formed Athens KKK.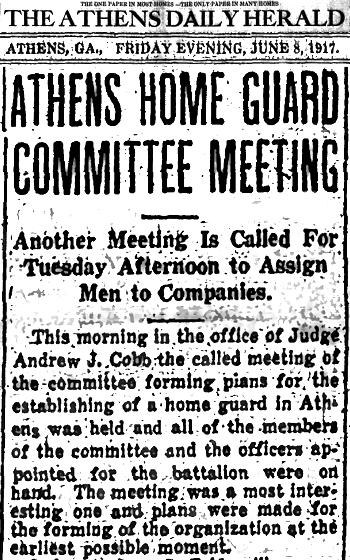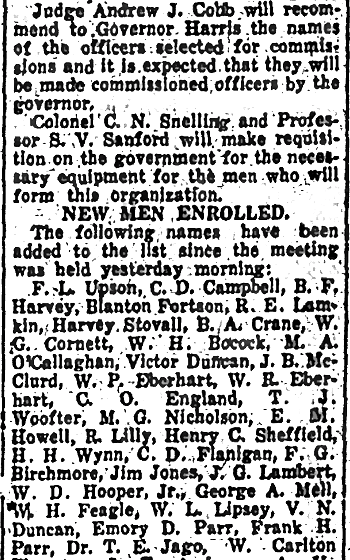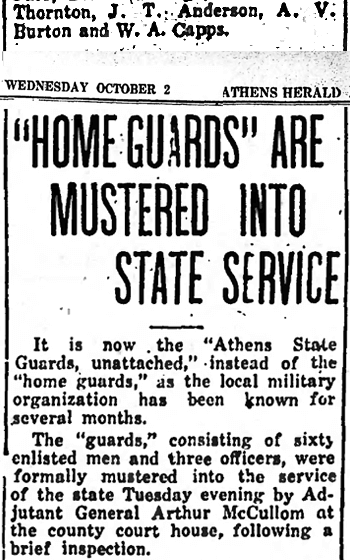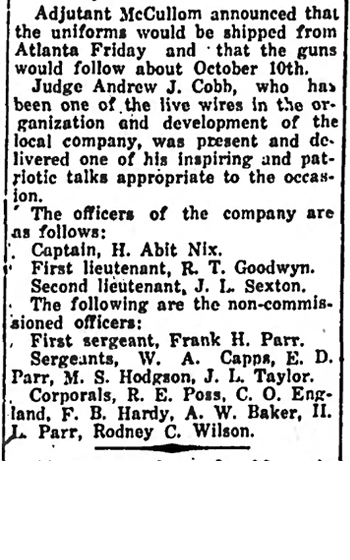 President Woodrow Wilson and the majority of Congress intend to create a military force mainly through the conscription of civilians.
Georgia's Federal Senators, Thomas Hardwick and Hoke Smith vehemently oppose The Draft.
Andrew Jackson Cobb engages the world through the lessons of The Civil War. His immediate family were generals and leaders in both the Confederate and US governments.
For Judge Cobb, opinion and argument must eventually cede to Unity, not acrimony. A fight to the death will yield a victor, but at a terrible price for all. When consensus is impossible, voluntary Unity, so that productive engagement can continue, is the essence of the social contract.
"Fight your battles to win the war, or else loose the war by fighting the enemy."
Judge Cobb chooses to publicly condemn these two very powerful men, Hardwick and Smith, for their opposition to the War Effort.
Judge Cobb has a larger war to wage than winning personal honor and public position.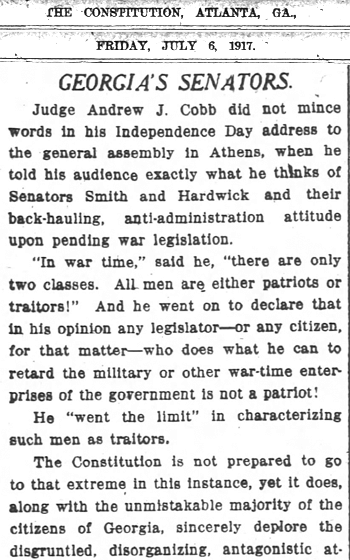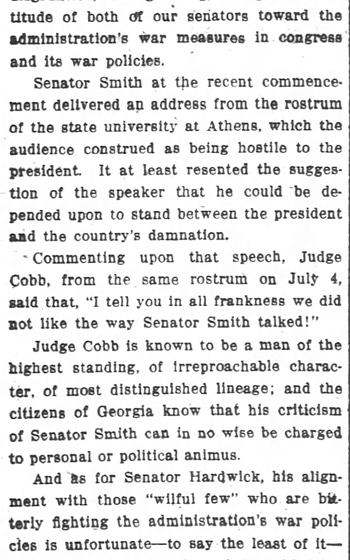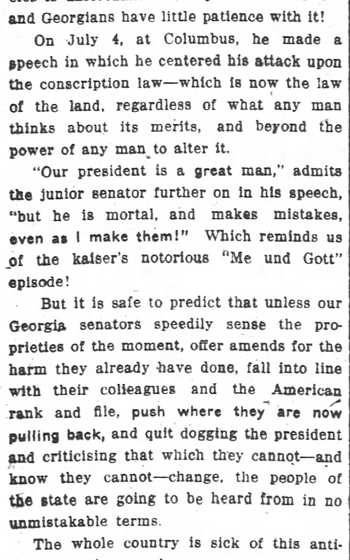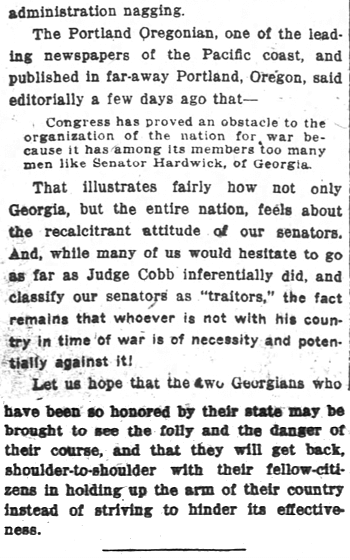 In the previous weeks, the positions of US Senators Hardwick and Smith had been unremarkably reported in the Athenian press.
On July 4th, Judge Cobb publicly condemns Hardwick and Smith.
Condemned by Judge Cobb, they are soon condemned by all. The examples are too numerous to reproduce here. The Senators are forced to cancel valuable engagements. There's a call for their removals from office.
Senators Hardwick and Smith are extremely powerful men. They've known bitter political rivalries but never been so roundly humiliated as by the public sentiment, which Judge Cobb had aroused.
In 1920, after the war had concluded, Senators Smith and Hardwick are up for re-election.
Again Judge Cobb condemns them. His description of their candidature as Sinister is a front page headline.
Judge Cobbs's original condemnation, from 3 years earlier, is reprinted at length on the Athens Banner front page.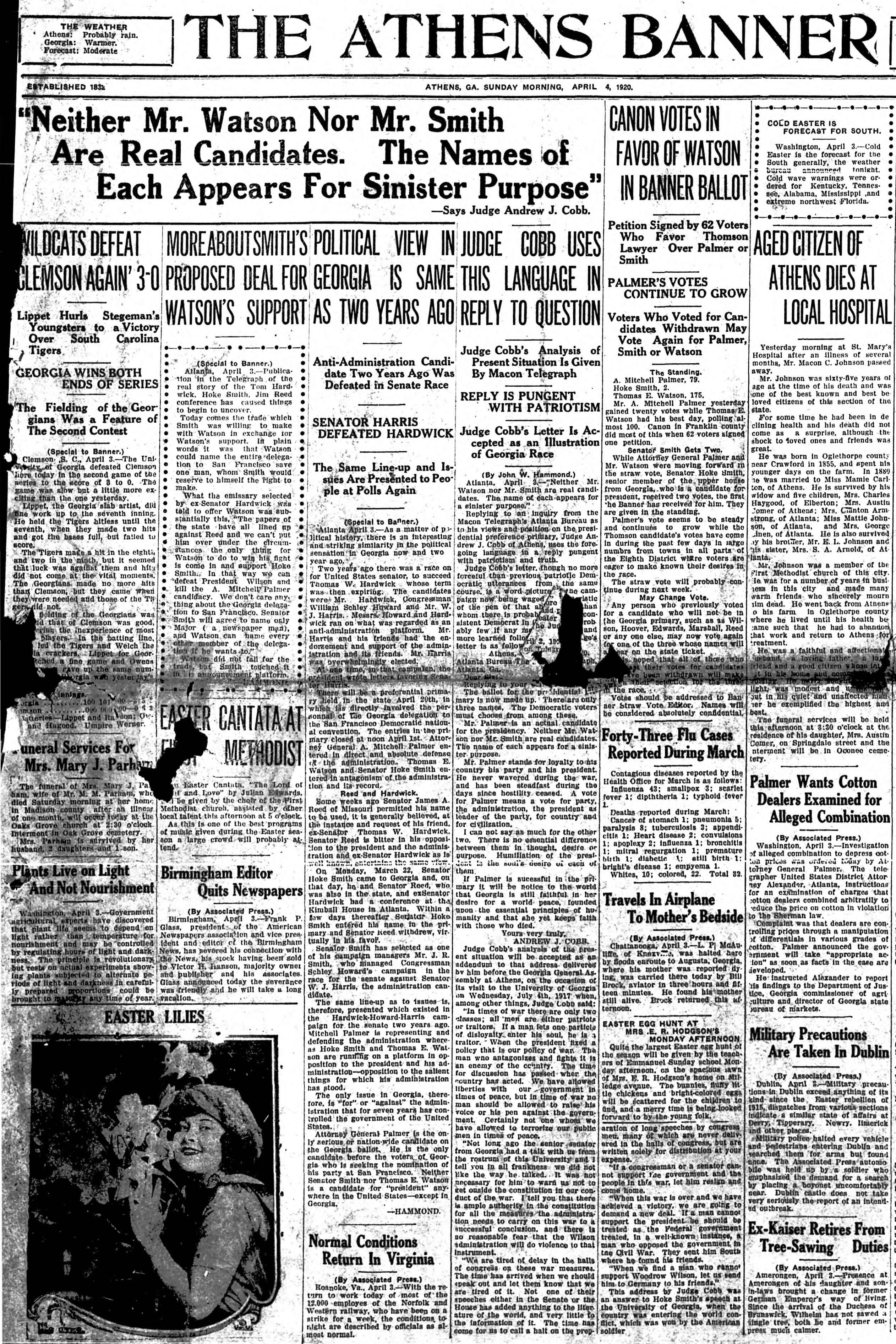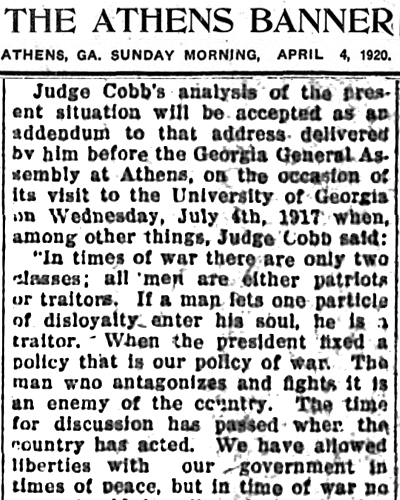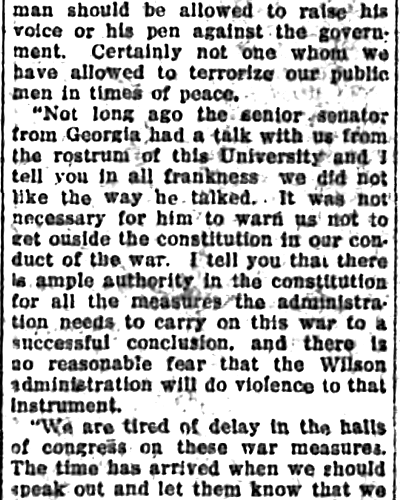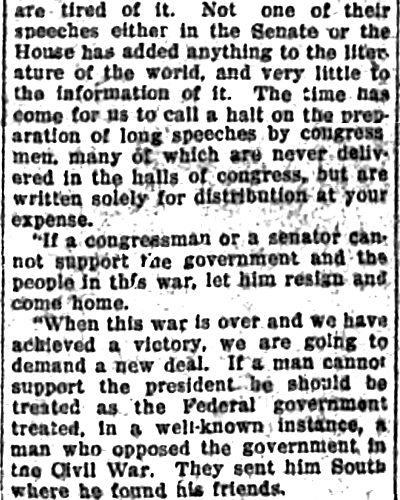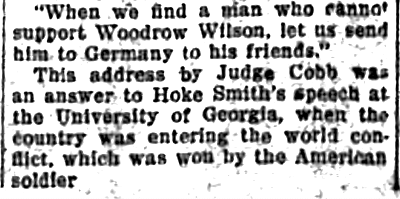 The Honorable Thomas Hardwick will loose re-election to the Senate, but he will be elected Governor of Georgia.
Hardwick will have his mean and petty revenge against Judge Cobb.
The War is over. The impossible task of restoring a just peace and prosperity begins.
Andrew J. Cobb believes his mission is to connect global issues with local activities.
Here he's holding court along his circuit, in the rural city of Winder.
He somehow transposes the importance of The League of Nations onto the trials of townspeople and farmers who rarely, if ever, leave their county.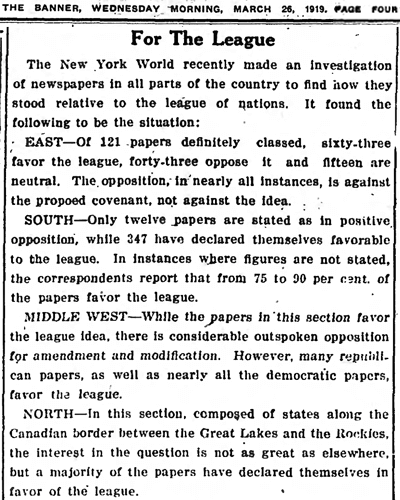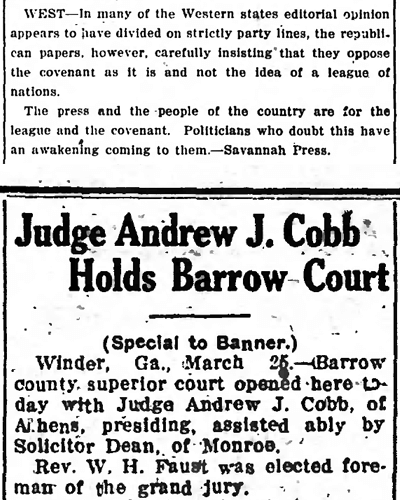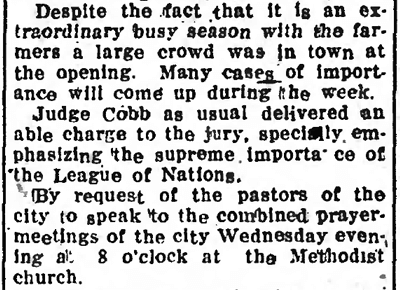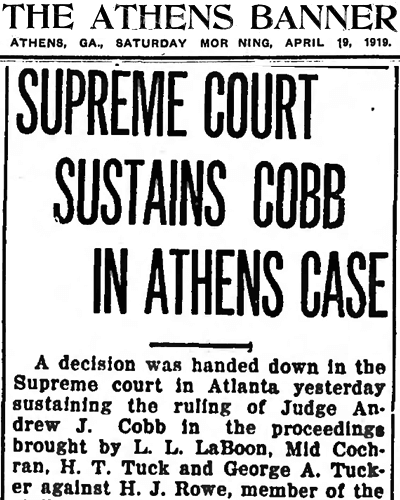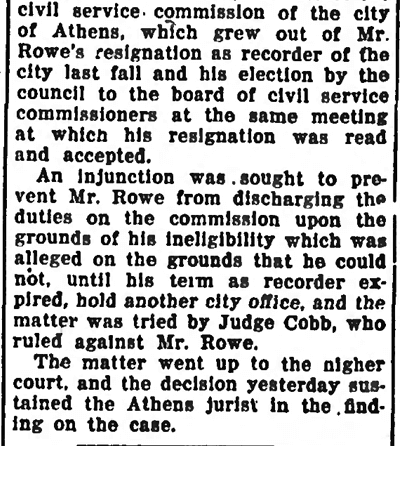 Judge Cobb disrupts venal politics whenever he has a charge to do do so, even if it involves his friends.
During August 1918, there was an underhanded power grab by Mayor Erwin (also Cobb's brother-in-law and business partner).
As part of this scheme, Hugh J. Rowe, the recently elected City Recorder, resigned his post for the newly created, and much better paying and longer tenured position of Civil Service Commissioner.
Several City Councilmen opposed Rowe's acceptance to this new, State created post. Rowe, they argued, had been elected to serve a full term as City Recorder, not to shop for better career opportunities.
Judge Cobb agreed.
The case went to The Georgia Supreme Court. They agreed with Judge Cobb.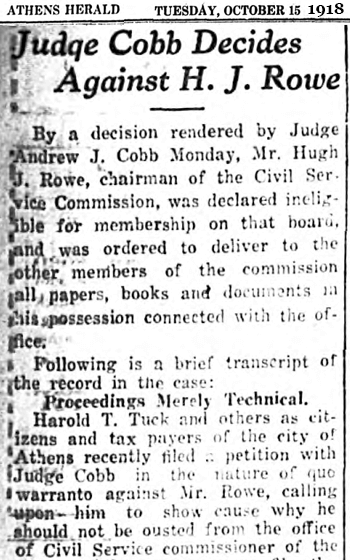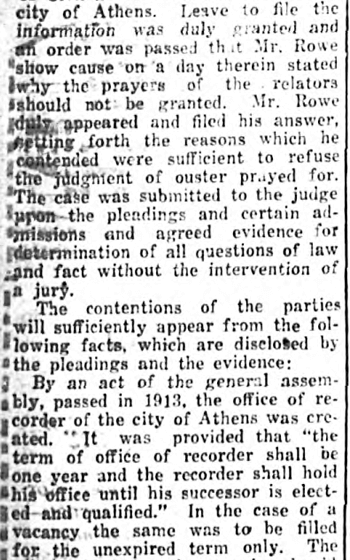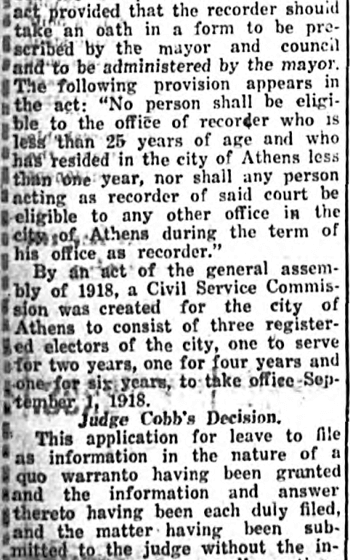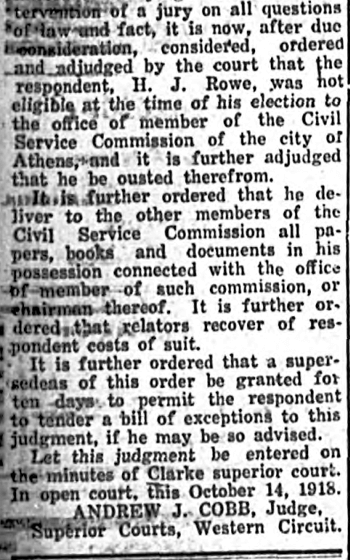 Hugh J. Rowe is also the Editor-in-Chief of The Athens Banner.
The details of the story are only published in the other Athens newspaper, The Herald.
In brief, Mayor Erwin wants to reduce the responsible city directors from 9 to 3 people. He wants to give money to his pals but not the rank and file. He wants to keep the incompetent Record File Clerk, Charles Allgood. Rather than hire a File Clerk that can perform his job role, The Mayor creates a new post for the incompetent Clerk to supervise a new clerk. In this way, the records will be filed as the Mayor prefers.
The incompetent file clerk is Louise Allgood's grandfather. Louise is Viola's good friend.
The article about this one city council meeting reads like a comedy sketch. With a needlessly urgent call to an enthusiastic Governor and unabashed guile, on the part of ALL the players, it's only missing some slapstick.
Tragically, all the proceedings are legal, except for Rowe's acceptance to the new Pork-Barrel Position.
Rowe doesn't hold a grudge. He soon becomes Judge of the City Police Court.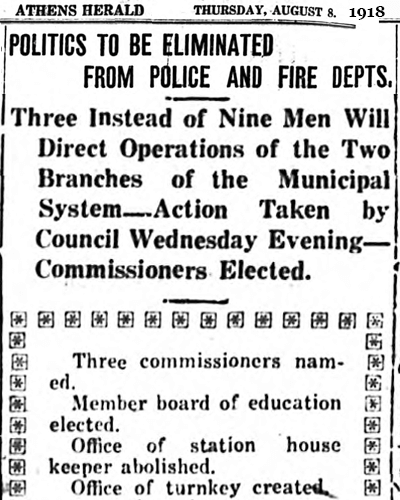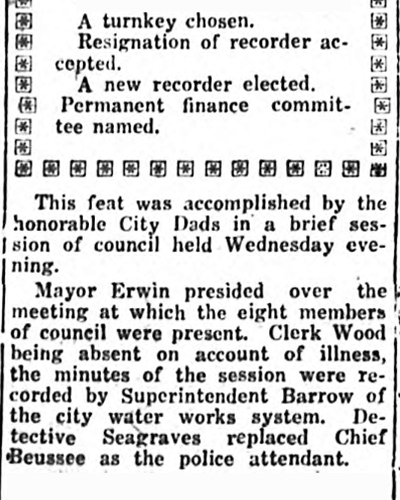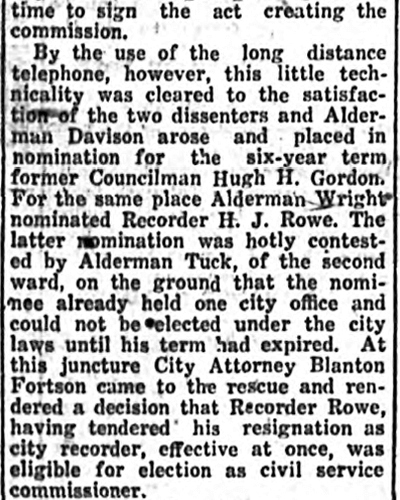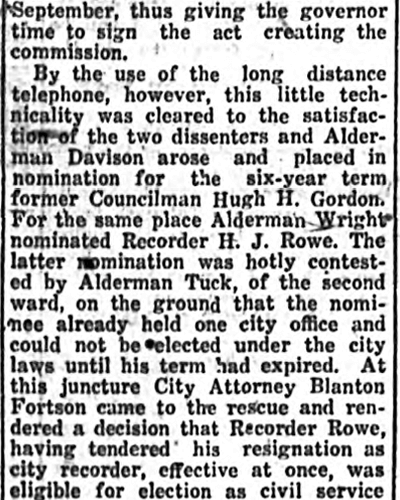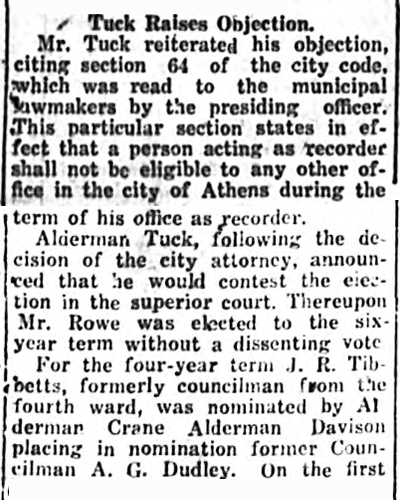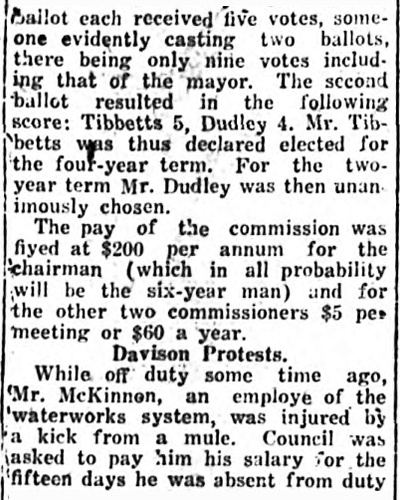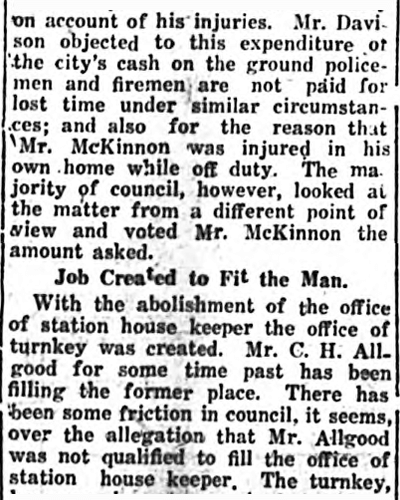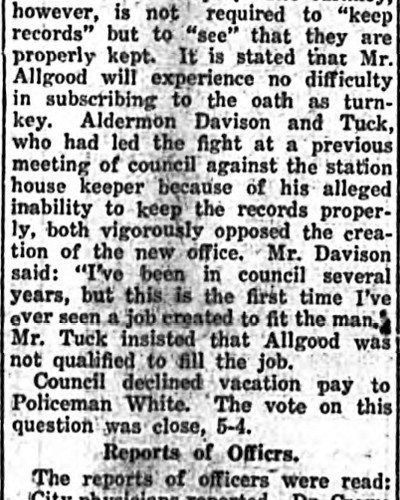 Reading the report gives a palpable account of the completly legal corruption that exists in government.
As a participant in local Athens Clarke County municipal government between 2015-2017, I testify that nothing has changed in 100 years.
See the summary of the upcoming ReVif True Story Hal O. Johnson and the FireAnts.
Political corruption has a long history in Athens, Georgia.
By 1890, corrupt city politics had become a source of grave concern to many affluent citizens.
Andrew Cobb, City Attorney of Athens, did not encourage investigations against individuals. He knew that for each head decapitated from the Hydra that is corrupt politics, a new, and more vicious head would sprout. Attorney Cobb knew that the root cause of political corruption must be cauterized, if Athens was to flourish.
City politics had ceased to be an open enterprise. Political and Civic deliberation no longer occurred within government institutions and process.
Instead, decision making took place among leaders of secret gangs, who made their headquarters in the backrooms of saloons.
Their gang members were the same pleasure-seekers, alcoholics, and drug addicts (Opium, cocaine, morphine, and cannabis, were more common in the 19th century than is often admitted.) who eternally give allegiance to criminal bosses in exchange for the maintenance of their disease as a signifier of tribal belonging.
The word disease, or dis-ease is closely related to the word unease.
Attorney Cobb sees that barrooms and saloons are the institutions that enable corrupt governance of Athens.
Attorney Cobb sees that prohibition of alcohol will drive the criminal activity underground. Corrupt leaders may find their affairs more difficult at first, but they will soon find haunts even more secretive. Prohibition risks that the sources of corruption become undetectable and permanently engrained within Athens.
Attorney Cobb proposes that Athens establish a dispensary for the distribution of alcohol. In this way, alcohol (but not drugs) can be sold within moderation and without the association of criminal projects. The significant money raised can be used for education and the encouragement of an ever more temperate population.
The proposal is overwhelmingly adopted and proves a great success.
Eight years later, in 1899, social squabbling disrupts the peace. The First Baptist Church of Athens (it and the First Presbyterian Church are THE TWO churches of Athens high society) puts one of its members on trial because of demands from an overarching and politically powerful religious organization, The Baptist Sarepta Association.
The manager of The Athens Dispensary, M. C. Johnson, is a member of The First Baptist Church. The Sarepta Association insists he be expelled from the Baptist faith because of his job.
Below is the "trial transcript". Attorney Cobb has the last word. Summing up the defense he pleads for a separation of church and state. He pleads that that the Bible teaches temperance, but even ABSTINANCE may be INTEMPERANT. While deploring the use of alcohol and professing that a sober society is the ideal, he warns that too great a use of authority against people will cause greater evils that moderate alcohol consumption.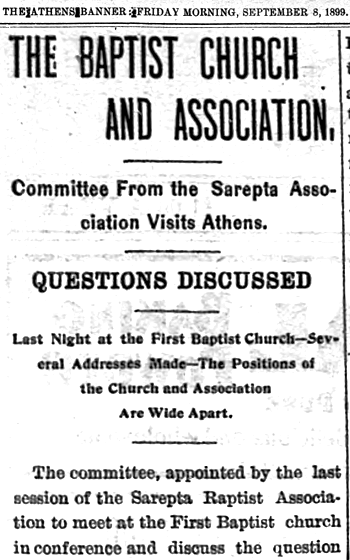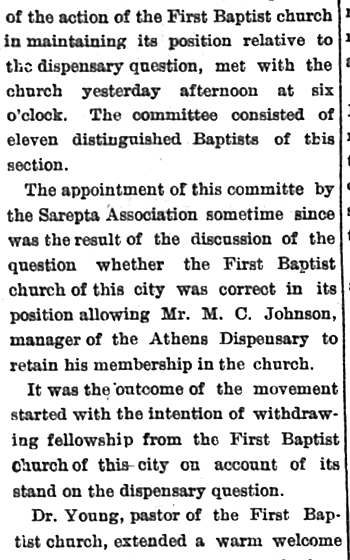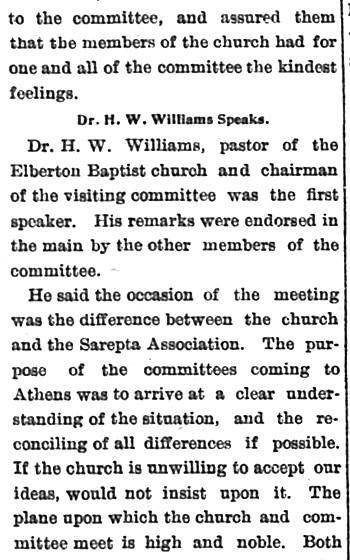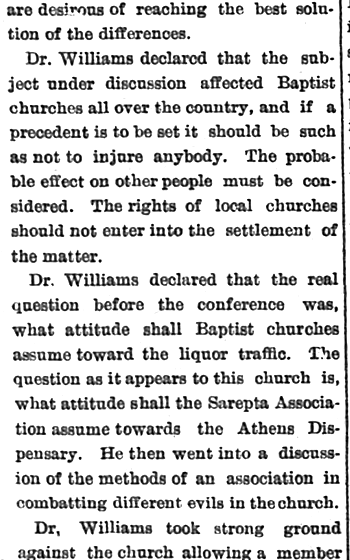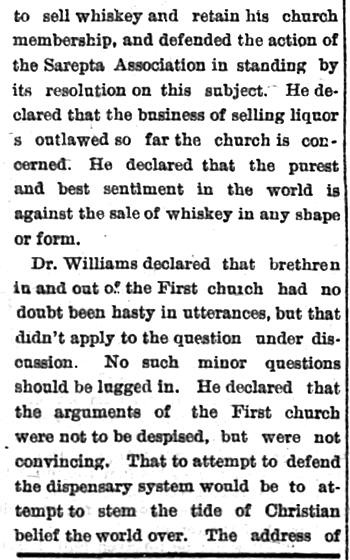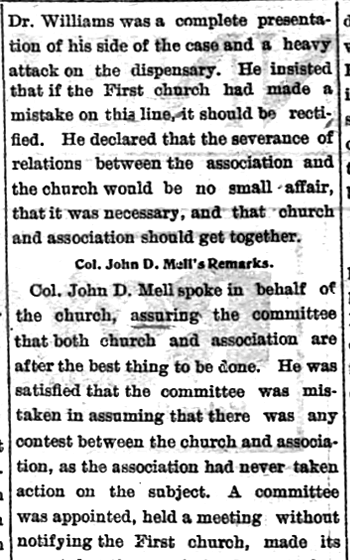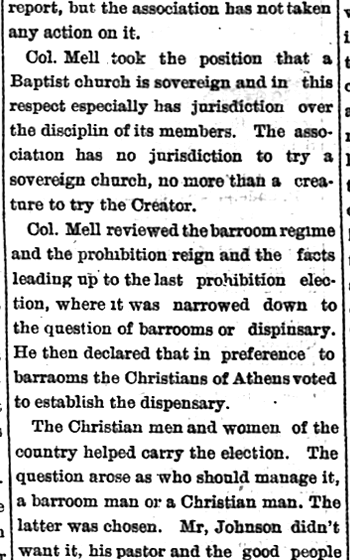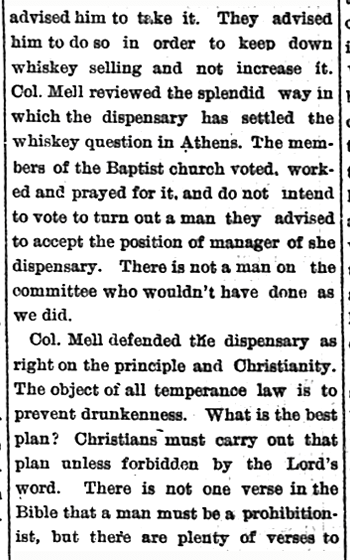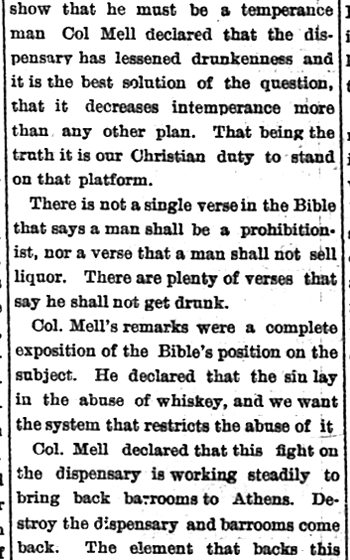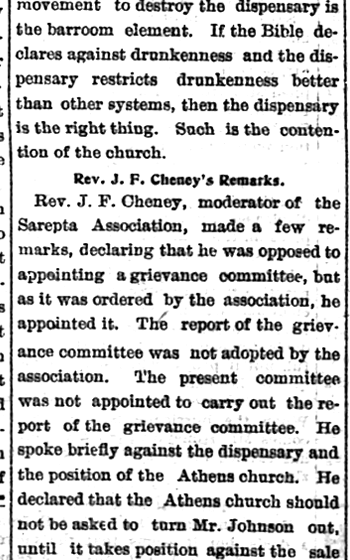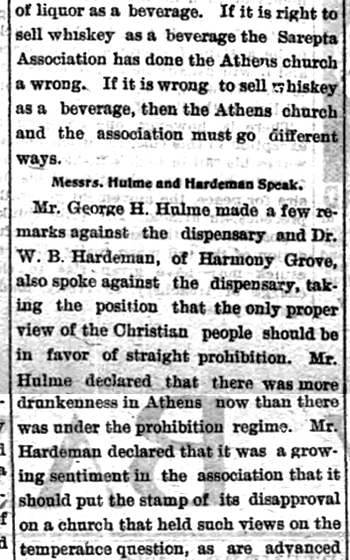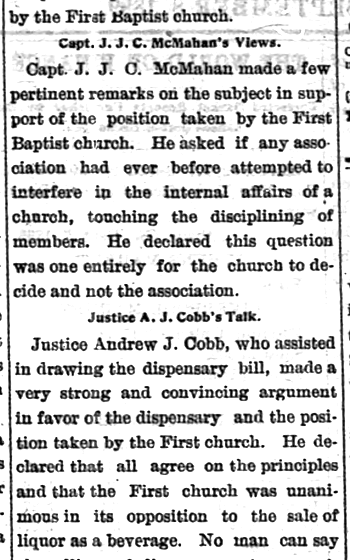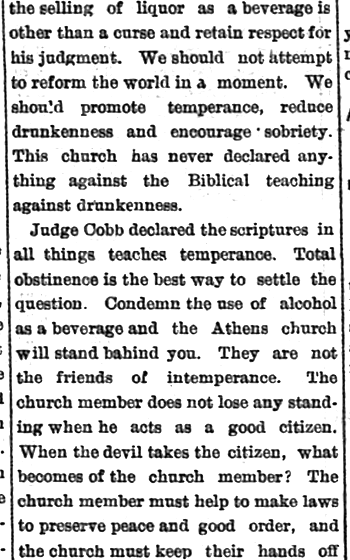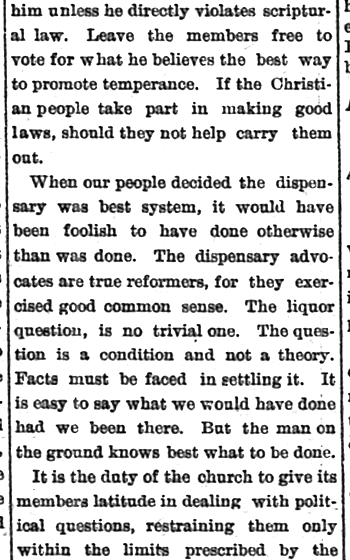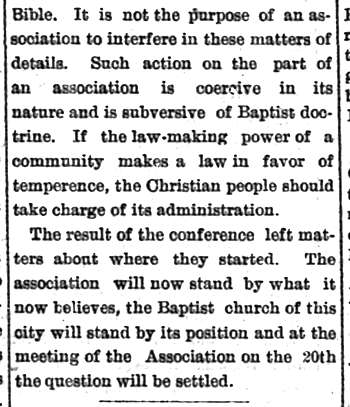 Ulitmately, Mr. Johnson is expelled from the Baptist Church. "Bone-Dry Prohibition" comes to Georgia in 1907 and the Dispensary closes.
Bootlegging becomes big-business.
You will read later how in 1912, one of the most powerfull men of Athens, Dr. Henry M. Fullilove, to protect his whisky racket, murders a man in a public shootout. The murdered man's brother files charges and a kangaroo court aquits Fullilove... to the adoration of a cheering, packed courtroom of men.
Andrew Jackson Cobb cannot escape the demons of his epoch. Try as he does to build the noble character of humanity, he also perpetuates our pre-judicial character.
He, as do all of us, unwittingly, defiently, or resignedly... accept social conventions that we entitle NATURAL.
The following article reports the cases that came to Judge Cobb's attention while The Grand Jury was demanding the arrest of Viola Parr's killers.
The article is troubling. It illustartes that Jobb Cobb is attached to conventions that we struggle against today.
Afro-Americans are punished more severly than Euro-Americans.
Crimes against property and authority are more serious than crimes against people.