The 1918-19 Spanish Flu was pandemic in Athens, Georgia
when Viola Parr was pregnant.
Viola's killers tried to blame her death on the Spanish Flu.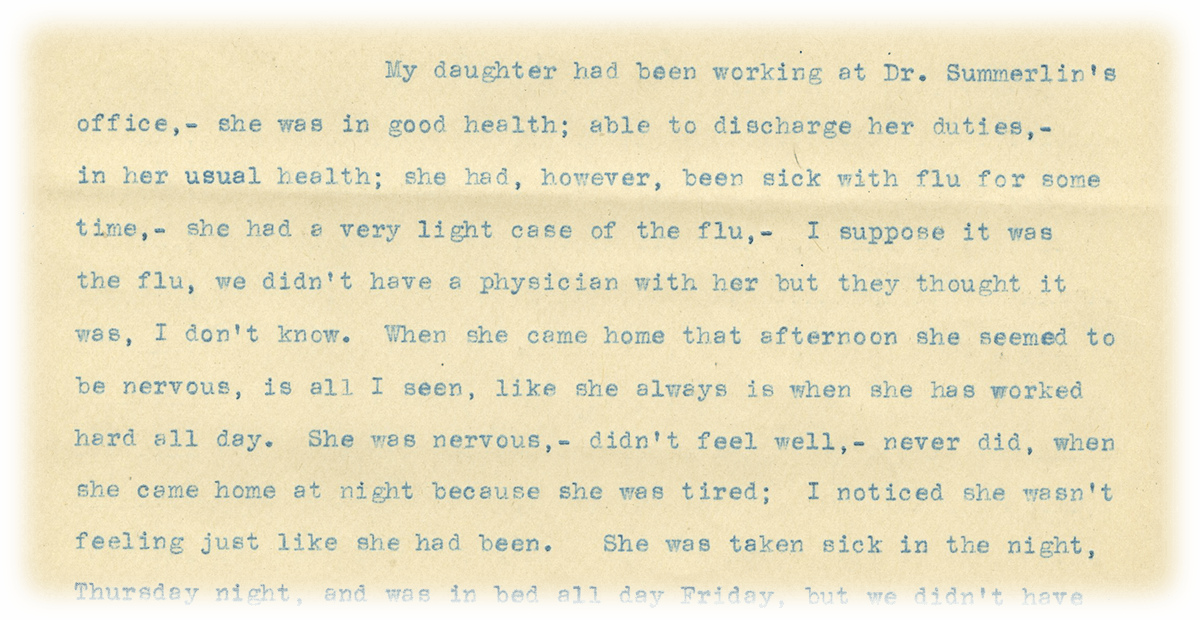 Influenza had always been known in Athens. The first generation of Euro-American Athenians reported an influenza case in 1827.
What we name influenza has been a European malady all along history.
Indigenous American populations were decimated by pandemics. Influenza took it's toll.
In 1832, a transatlantic flu pandemic occurs. New York, London, and Paris report many cases and deaths.
During the time of Viola's great‑grandparents, local cases of influenza rarely make the news.
Athenians familiarly call influenza by it's French name grippe (pronounced grip).
Patent medicine is regularly advertised for grippe and a long list of other common ailments.
USA's first flu pandemic began in 1899.

It originated somewhere in Asia.

It was called The Russian Flu because it first disrupted Russian cities.

Within a few weeks it caused great illness across Europe.

It reached Athens, Georgia in 1890. It seems not to have seriously affected the city's peace and order.
After 1890, Influenza,
popularly known by it's French name, Grippe,
attracts more serious medical scrutiny.




By 1913, the public health approaches to influenza are
similar to those employed in the
USA during early 2020.
USA's Winter of 1915-16 had an influenza epidemic.
The 1915- 16 USA flu epidemic is a significant forerunner of the deadlier 1918-19 pandemic.
The 1915-16 influenza epidemic swept from the USA's east coast to west coast in about 8 weeks.
We don't know how long it lingered.
Contemporary statistics of the 1915-16 epidemic are reported by Louis I. Dublin Ph.D, of Metropolitan Life Insurance, in The American Journal of Public Health.
According to Dr. Dublin, there was a 100% increase in deaths due to influenza and related pneumonia.
Most people who contracted the 1915‑16 flu recovered. Dr. Dublin estimated that at the epidemic's peak, mid-January 1916, 40-50% of the US population had sickened.
2 years after a funny poem, during the Winter of 1917‑18, La Grippe WILL return... and fade away.
Then it returns again, a few months later, as the 1918‑19 Flu Pandemic.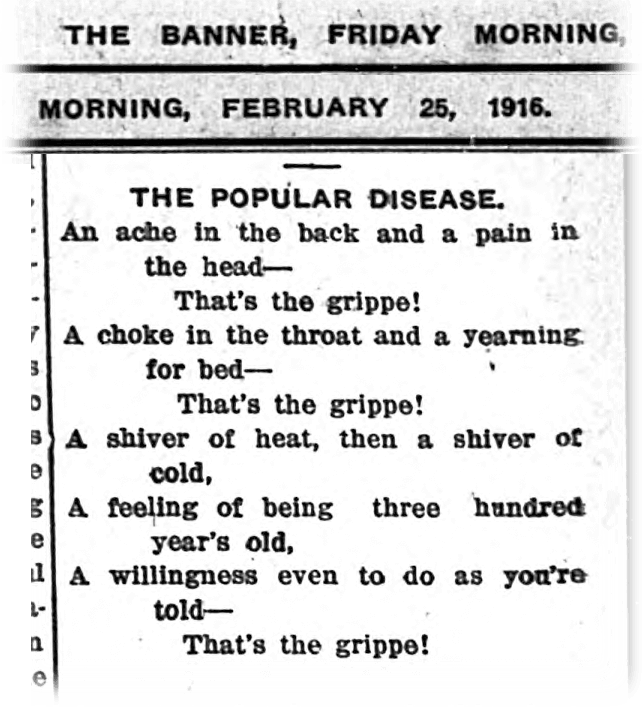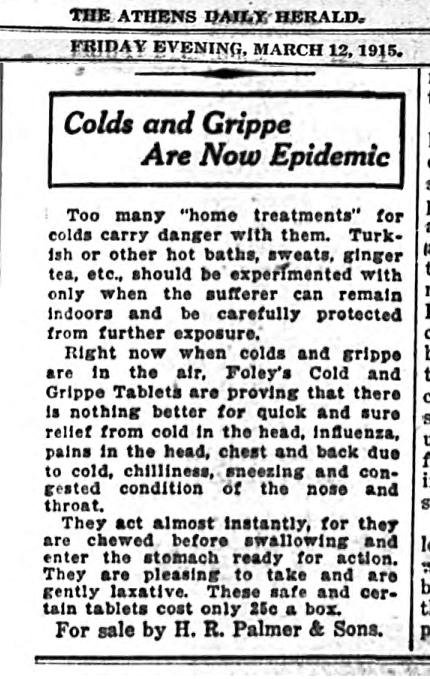 Public health crises were thought of as a few months at most. Grippe medicine is prominently advertised year‑round.

1915‑16 flu epidemic, and 2 years later, 1917‑18 influenza's back.

Does it ever leave?

Does it only change?

What makes it change visciously?

What conditions might domesticate viruses?
The 1918‑19 flu pandemic begins next Winter.

The worldwide 1889‑90 pandemic, the USA's 1915‑16 epidemic, and the 1918‑19 pandemic possibly all originated from the international horse trade.
Railroads and transatlantic steamships enabled the spread of all 3 epidemiological episodes.
World War I's demand for horses led to unsanitary equine conditions.
Since 1914, USA stockmen and soldiers worked and lived in close proximity to crowded ill horses.
We might consider why and how deadly flu pandemics are the natural result of humanity's marketplace.
Markets of DEATH distribute DEATH.
When life is a market's commodity; life is a contagions's haven.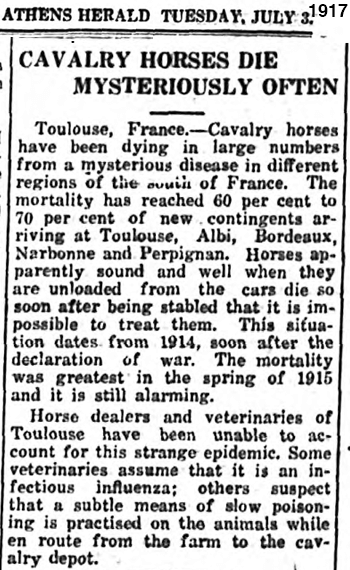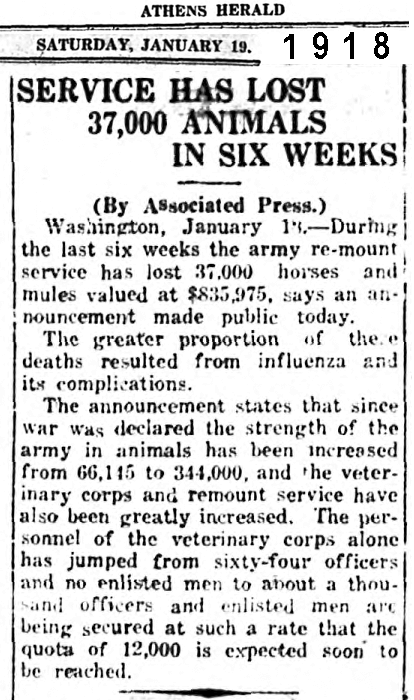 1917‑18 brings something DEADLY TO LIFE.
Spring 1918 is the generally accepted start of the USA's 1918‑19 Flu Pandemic.
Influenza between men and horses had disrupted, more than usual, Europe's military since some time.
The USA equine supply chain has had grave influenza disruptions.
37, 000 US Military horses and mules suddenly die of influenza.
In 2020 money that would be a loss of $14,400,000.
A year before the 1918‑19 Flu Pandemic, 60% of French Calvary horses die from influenza.
In early 1919, The New York Medical Review, Volume CIX publishes INFLUENZA IN HORSES AND MAN by Dr. George Soper, Major, US Army Sanitary Corps
Maj. Soper studies the link between the 1918 human influenza pandemic and parrallel influenza pandemics among horses.
In 2010, Morens and Taubenberger. (2010) Historical thoughts on influenza viral ecosystems, or behold a pale horse, dead dogs, failing fowl, and sick swine. Influenza and Other Respiratory Viruses 4(6), 327–337
Morens and Taubenberger indicate that the 1918 influenza epidemic and the earlier worldwide 1889 flu pandemic and the 1915-16 US flu epidemic were all three related to equine illness.
In 2014, Dr. Floor Haalbloom's paper 'Spanish' flu and army horses: what historians and biologists can learn from a history of animals with flu during the 1918–1919 influenza pandemic
Dr. Haalbloom shows that horses as a vector for human influenza had been strongly debated during WWI.
Drs. Soper and Haalbloom, and Morens and Taubenberger all conclude that horses contract flu as a result of poor living conditions forced upon them as commercial commodities.
History tells us that the 1918 influenza pandemic started in springtime.
Athens newspapers don't report the Spanish Flu in the USA until autumn.
But five months earlier,
Flu‑Flu
had incessantly paraded Athens between
May and August 1918.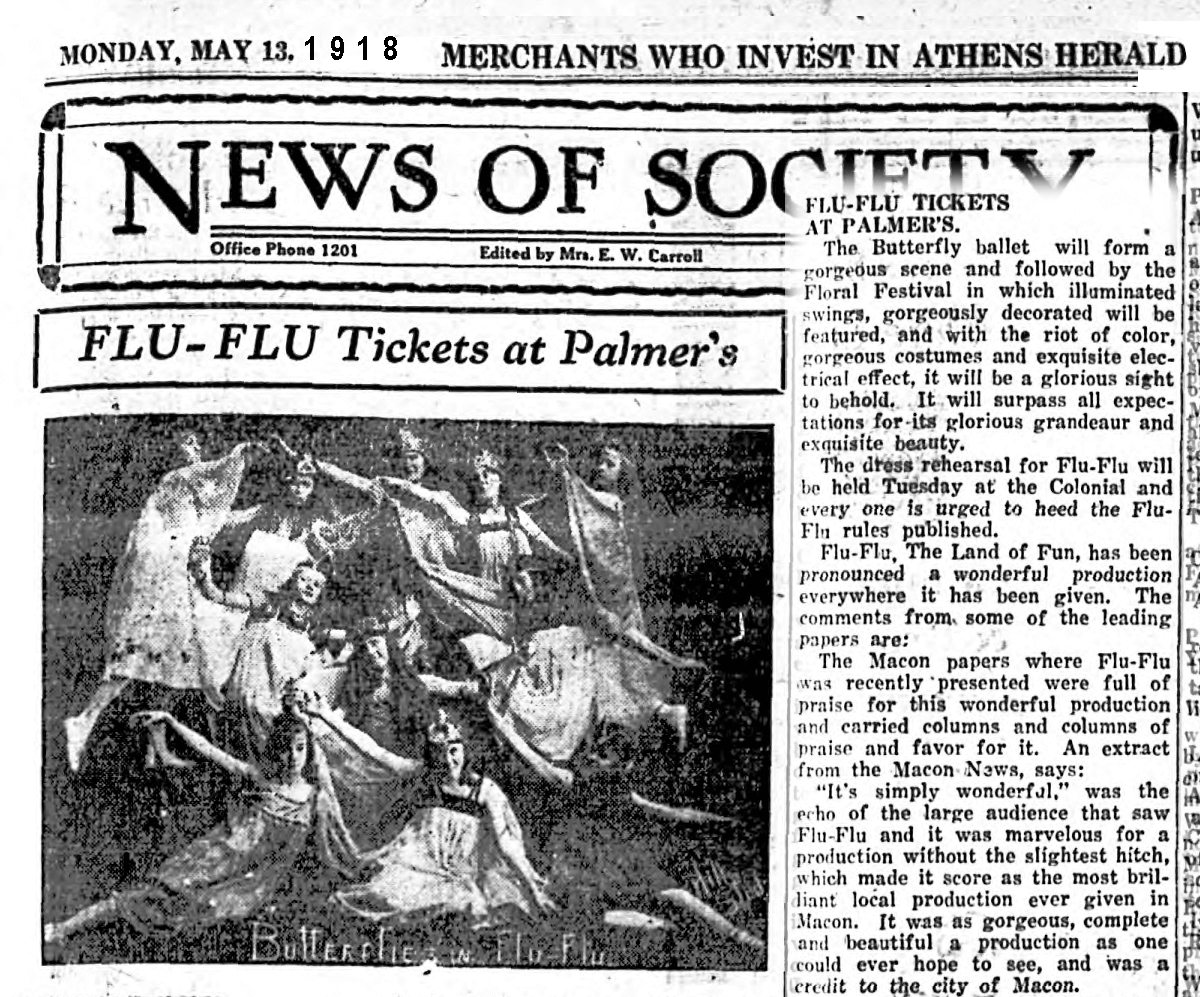 Flu-Flu, a patriotic Broadway-Style war production from New York,
involved all Athenian patrician society.

from May until August 1918, while influenza grows in New York, Flu-Flu's WAR SUPPORT TALENT SHOW precludes all other Athenian society affairs.

All good Euro-Americans wanting to play are invited! The local chapter of the The United Daughters of the Confederacy engages amateurs, especially children, to put on this professional patriotic pageant and revue.

What nicer way to fall in love than waiting in the wings of Flu- Flu? That Spectacle nurtured for us to play, protected, within.

Young men, young beaux, take notice!

Janie studies Beaux-Arts.

The star of Flu-Flu, Miss Janie Webb is on two of the four production committees (Program and Stage). Janie's mother is President of Flu-Flu's sponsor, The Lara Rutherford Chapter of the United Daughters of the Confederacy.

All the young Athenian ladies study Beaux-Arts, French, Domestic Science, and History at Miss Millie Rutherford's Lucy Cobb Institute.

When the great French Artiste, Sarah Bernhardt played Athens' Colonial Theater two years earlier... ... Janie visited each performance. Janie kept a scrapbook of Bernhardt and other artistes... what happened to that album?
Flu-Flu's composed by New York theater professionals, for use by patriotic amateur groups across the USA.
Flu-Flu's a big success.
Everywhere.
Flu-Flu dominates social and health news mid-May through August 1918.
Flu-Flu plays Athens while the 1918‑19 Flu Pandemic burns across the Northeast.
Flu-Flu's brand : (
Flu-Flu, a World of Fun !(
Flu-Flu patriotism pays for itself, and a little extra.
Why would the name Flu-Flu be used for a patriotic war pageant?
Flu-Flu's budget settles on Oct 10, 1918. Next week, The Flu arrives to Athens.
History tells us that the pandemic was well known by New York experts during Spring of 1918. The Spring of Flu-Flu's intimate, civic theater activities.
3 weeks earlier, there had been a small article on the front page of the Banner's evening edition of Wed. Sept. 19, 1918. The first news of the Spanish Flu had been published in Athens.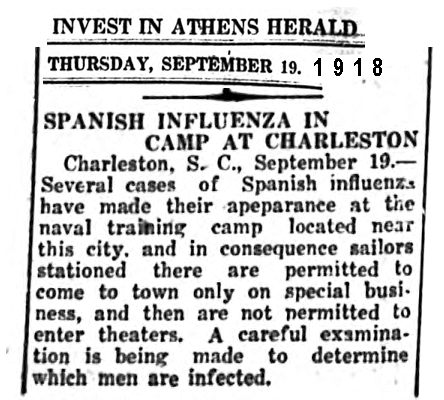 During the Fall of 1918...


... the 19th century ends.
Sept. 20 & 25, 1918:

The pandemic is announced.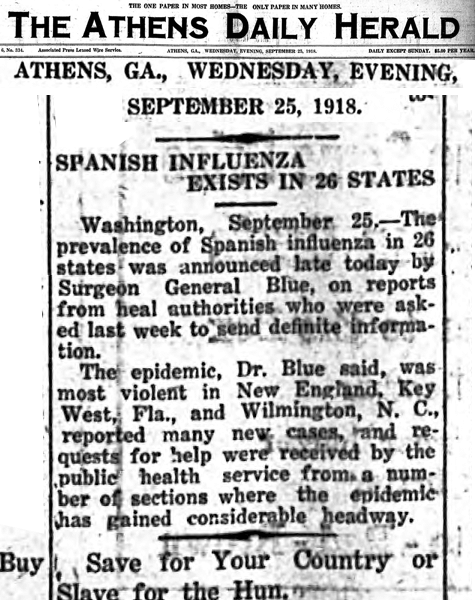 A week later, Tues. Oct. 1, 1918,

an insignificant article warns:

The influenza epidemic is not over!

Just below the health warning, follows a long, satisfied Athenian review of the recent Ringling Brothers Circus event.

Athens will know the pandemic.

Three weeks later, Oct. 25,
Flu makes Circus Folk unwelcome.
Fri. Oct.4, both a front page article and a page 5 article sound the pandemic alarm.

The article warns that Spanish Flu is increasing among the public while reassuring that cases are decreasing in the military.
Sun. Oct. 6, the first Athenian influenza cases are reported as front page news items.

They appear just below headlines of imminent surrender of Germany.

The prominent Judge Holden (who will recover) is ill.

Pvt. Chester Adair died of flu in France.
Tues. Oct 8, and for about 3 weeks, Athenians quarantine.

Churches, institutions, and businesses suspend activity. It is a lockdown.
Scouring the obituary page for Mon. Oct. 14, 1918, The Athens Herald reports:
11 people died on that weekend, about 0.7% of Athens' 16,000 citizens.
9 deaths were under 40 years of age.
5 deaths identified as Spanish Flu related.
The other 4 deaths were 2 young children and 2 young parents; could have been flu but unannounced.
Only 1 elderly person had died.
1 young soldier died on the battlefield.
7 people sick or recovering, almost half from Spanish Flu.
3 expected to die from influenza;
3 expected to recover from flu;
1 expected to die of something.
Sunday's Obit Page...

Monday's News...
Next day,
Mon. Oct. 15, 1918,
Athenians read the Federal Government's
public health guidelines
for combating influenza.
The 3 week Quarantine lockdown lasted Oct.8- 25, 1918.

After two‑thirds through the quarantine, local newspapers reported that the worst of the pandemic had passed Athens.

About 4% of Athenians report an active case of Spanish Flu when Athenian quarantine lifts.

The statistics are likely higher than reported.

Three‑fourths of all Athenians live in extreme poverty.

Half of all Athenians are Afro-Americans living in such authority fearing poverty that doctors are difficult to find.

A quarter of Euro-American Athenians are also impoverished and isolated that their health is also undetectable.

Quarantine of 1918 is difficult for us to understand, today's 2020 Athens, GA.

In 1918 Athens, GA, public gatherings, such as church were still prohibited after the quarantine was lifted.

Lifting the quarantine, the Athens Board of Health further restricted businesses with new anti-loitering regulations. Soda parlors were force to suspend business altogether.
In 1918 Athens, GA, public gatherings, such as church were still prohibited after the quarantine was lifted.

Lifting the quarantine, the Athens Board of Health further restricted businesses with new anti-loitering regulations. Soda parlors were force to suspend business altogether.
During the Winter of 1918‑19, there is very little additional mention of the pandemic.
Had Athens beaten back influenza with early effective quarantine?
Was the 1918 Spanish Flu virus less deadly than 2020's coronavirus?
Was flu no longer news?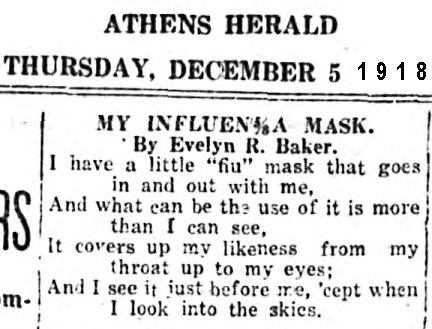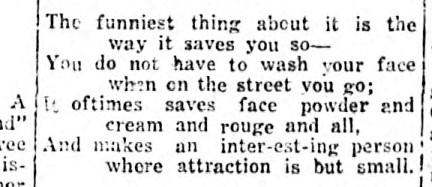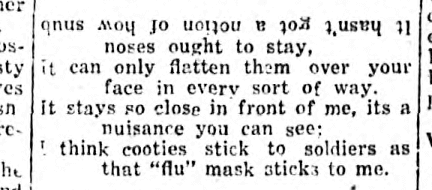 We know that...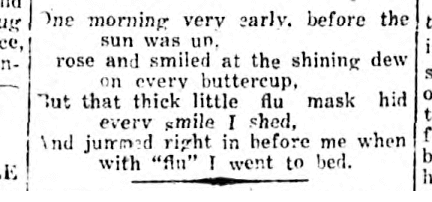 ...PEOPLE WORE MASKS.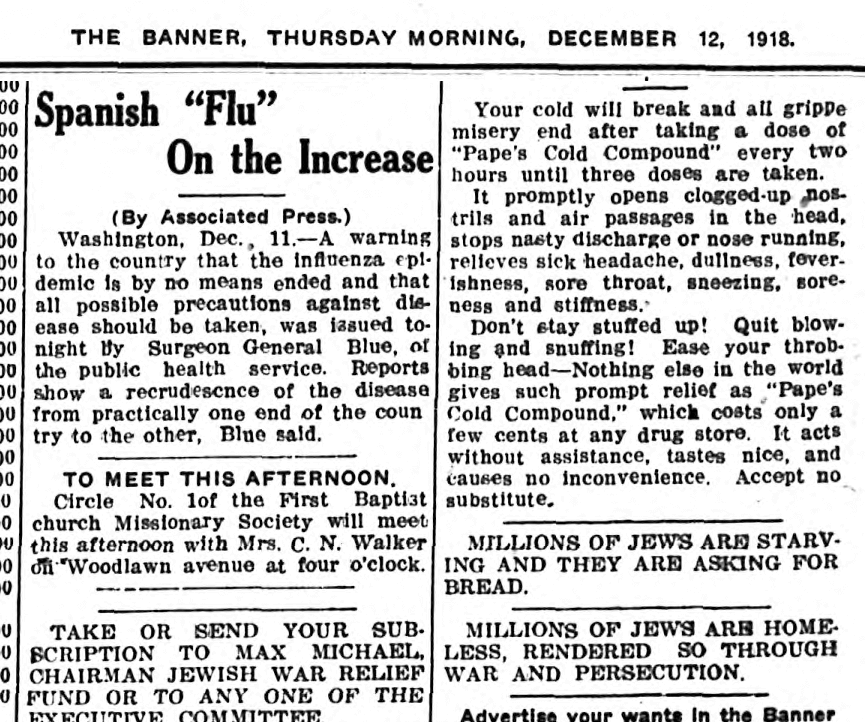 Dec. 12, 1918 and Jan. 3, 1919 are the last known contemporaneous Athenian pandemic articles.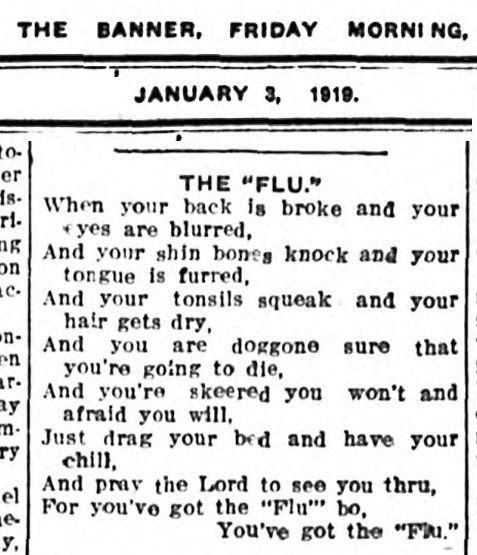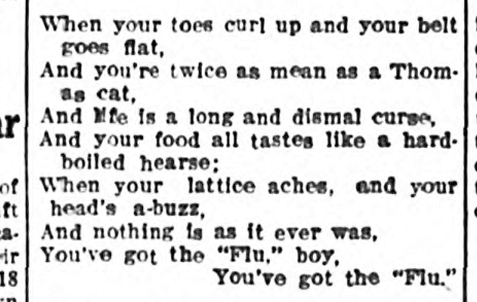 Less than 4 weeks after this joke's published...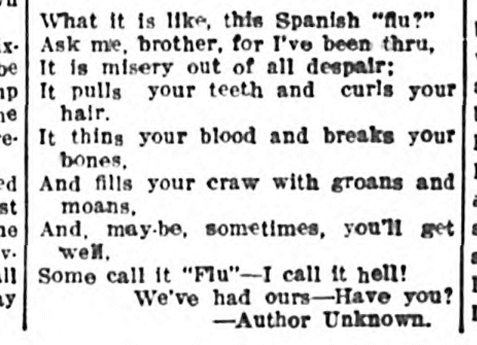 ...Viola dies.
Viola's killers argued
"Miss Viola Parr's death on Feb. 28, 1919
was a complication of influenza."