Exploring historical artefacts is ReVif's foundation. From this basis, ReVif creates original art of our current shared situation.
ReVif's True Stories Historical Romances will soon be available at Barnes & Noble, Amazon and other booksellers.
ReVif also blogs artwork, creativity tools and methods.
ReVif hopes to exchange perceptions of the world with you. ReVif research intends supporting your efforts.
ReVif is a family enterprise. Get to know us on Facebook, Linked In, Instagram, Twitter, and of course, by exploring our ReVif.com website.
ReVif's 6 navigation buttons and numerous hyperlinks wend you through ReVif's website.
Buttons are recognizable as fuchsia, horizontal figure eights.
Hyperlinks are underlined, pink and orange text with blue drop shadows.
Because ReVif.com is unlike most websites, here's an illustration of ReVif's navigation buttons and links.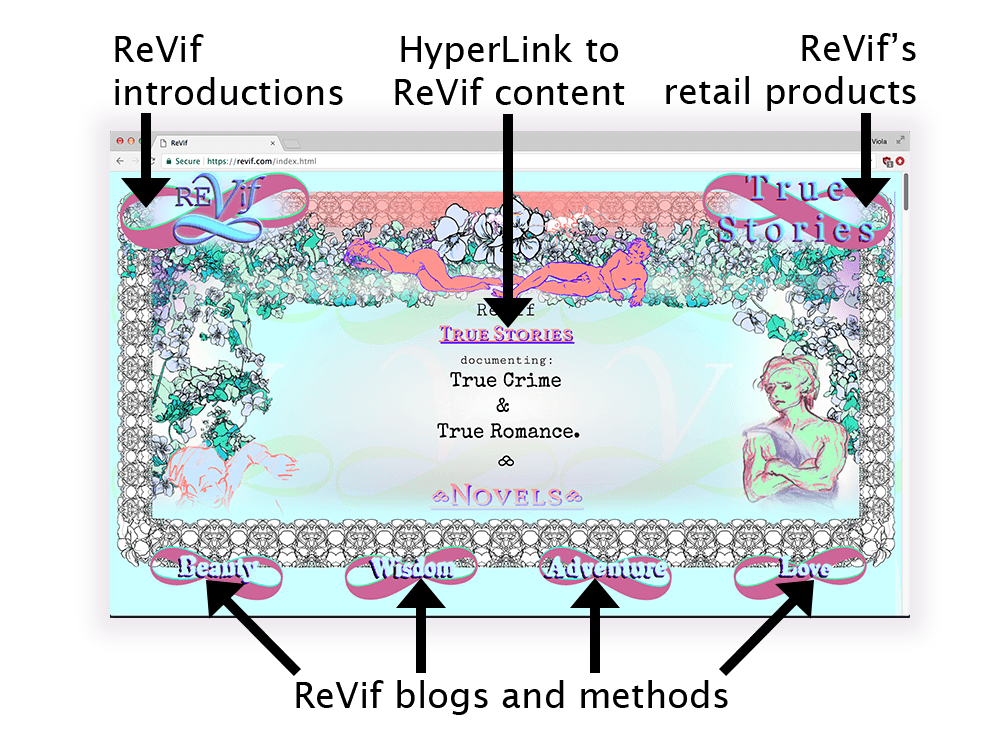 Revif.com integrates higly detailed images within text articles.
ReVif's images are easily studied on portable devices, using the pinch function for zooming in and out.
Desktop devices provide even greater ability to examine ReVif's images. However, desktop devices have no appropriate zoom function.
For this reason, ReVif has implemented a Responsive Zoom Desktop Solution.
ReVif leverages a simple browser power, which you might not know exists.
Zoom into small images of historical newspaper articles. Zoom out from large images of documents, drawings, prints and maps.
Revif has also sprinkled unexpected amusements throughout the website, leveraging the Responsive Zoom Desktop Solution.
Narrowing the desktop browser window is all you have to do.
Revif's Responsive Zoom takes over from there.
Here's a video, followed by real examples of narrowing the desktop browser.
See how the image of the newspaper article enlarges when the window is narrowed.
Use the Responsive Zoom yourself, on the following example.
Make sure your browser is not in full screen mode; otherwise the cursor can't grab the edge of the window.
Though it's more than a century old, the newspaper article may be pertinent to you.
It was to me after the Spring of 2020, until... I don't yet know for how long, as right now the pandemic rages amidst wildfires.
On your desktop device, with the browser window at it's standard size, and not in full screen mode, you see the image of a newspaper article to the left.
Scroll so that the newspaper article is at the readable top of your screen. Just like you saw in the video.
Place your mouse cursor on the right-hand edge of your browser window.
See the cursor pointer change into a horizontal arrow.
Hold the mouse button down and drag to the left.
The browser window narrows. As you drag, the newspaper article changes dimensions and descends downward. It first becomes smaller. You may stop dragging and scroll up anytime.
Continue dragging. When the window is a little more than half as narrow as its original size, the newspaper article will suddenly enlarge. It is now easy to read, and the descriptive text is also accessible by scrolling.
Sometimes, because detail is so rich and important, Revif presents immediate close-ups of large images.
You might not, at the moment feel like such intensity, and instead want to reduce the image.
In this case, use the same technique of narrowing the browser window.
Now the large image will reduce instead of enlarging.
Use the Responsive Zoom in the example below, just as you did in the above example.
Now you can get an overview of the article, seeing how it relates to adjoining articles, before you read the detailed content.
As you begin reading this article from The Athens Banner, Wednesday Morning, June 20, 1906 and those surrounding it, you, I hope become very angry. Please read to the end.
If read to the end, you found The Hon. William Fleming was an opponent of racist voter supression.
He warned against the awful situation,
the exact situation
in which we find ourselves today.
He thought white supremacy must fail, because the people would reject ignoble fraud.
He was mistaken; Supremacisim has delivered us a completely fraudulent government.
Thank you for exploring ReVif.com, so deeply
as to arrived here at the end of these tutorials.
Enjoy ReVif, we are constantly transforming.